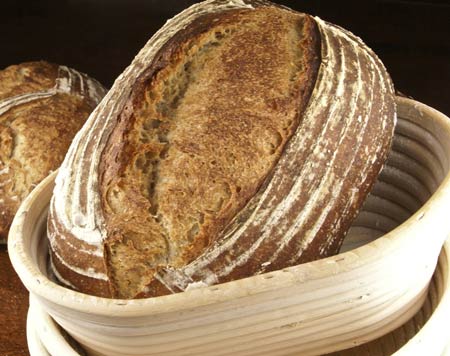 Proofing bread in a basket gives support to an expanding loaf and helps it maintain its shape. When the basket is a brotform, it also imprints the crust with a beautiful spiral pattern that lends the finished loaf a rustic European flair.
A brotform (German for "bread mold" – see why we stick with the German name?) is a coiled cane basket that holds the shaped dough during its final proof. My brotforms (or brotformen, if you want to keep strictly to the German) are round and oval, but they also come in rectangular, square, triangular, and a variety of other shapes. A 7.5- or 8-inch diameter round brotform is a good size for up to a 1.5-pound loaf.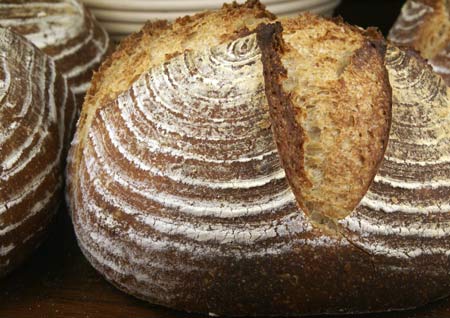 A liberal dusting of flour not only prevents the dough from sticking to the unlined brotform; it's also what leaves the pretty pattern on the loaf. Some people swear by rice flour to minimize sticking, but I've never had a problem with wheat flour. It's better to use too much than too little; excess flour can be brushed away lightly with a pastry brush before baking. (Don't bake the bread in the brotform!) To unmold the proofed loaf, turn the brotform over and whack one edge briskly against the peel at a 30-degree angle.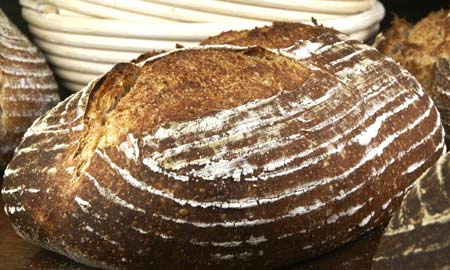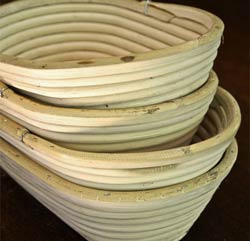 I don't wash my brotforms; rather, I clean the flour out with a stiff brush, then air-dry them completely before storing them. However, they can, if necessary, be washed in plain warm water and dried in a low oven. Keeping them bone-dry is essential so they don't get moldy.
Brotforms are available at many online retailers, but they can be pricey, so shop around. Some of the better prices I've found are from TMB Baking and Brotform.com, which offer baskets for under $20. A wider but more expensive selection is available at  Fantes. And if you're really ambitious, you could try rolling your own.