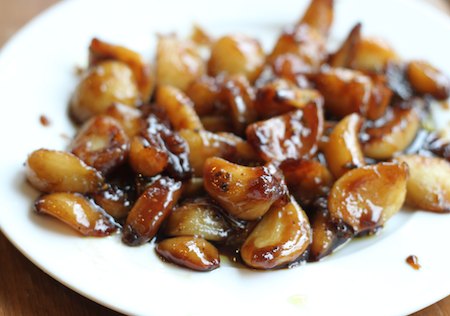 Well. I was going to write about how Dan Lepard's rustic garlic bread — Natashya's charge to the Bread Baking Babes this month — came this close to getting made without the garlic. About how I (oh-so-uncharacteristically) caramelized the garlic ahead of time, and about how that was exactly the problem: that garlic was so damn good, I had to use every ounce of restraint I could muster to keep myself from eating it any which way. About how I wanted to spread it on my toast, I wanted to top a hamburger with it, I wanted to mix it into my granola and ice a cake with it. About how I wanted to smear it all over my… well, never mind.
And then I would produce photos of the bread to prove that I really did exercise that restraint — and wasn't I happy I did, because wasn't that bread as good (or better!) as anything else I could have done with that garlic?
[Note to self: in the future, verify that all photos have uploaded correctly before reformatting the camera's memory card.]
But you believe me, don't you? Even without photographic evidence, you know I really made that bread. Right?
Or am making it up? Did I only imagine that those ciabatta-esque, olive-oil-rich loaves, each brimming with an entire head's worth of sweet, creamy caramelized garlic cloves, instantly became my all-time favorite version of garlic bread?
Only one thing to do to know for sure: make it again. I think I can manage that.
And as for photos of Dan's garlic bread, the other Babes have come through masterfully, so mine will not be missed at all. See my right lower sidebar for the links. And then do yourself a favor and start caramelizing some garlic, right now. Send posts to Natashya by April 29 to be included in the yeastiest garlic fest on the web.