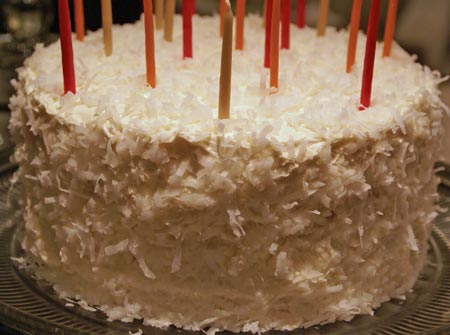 Yes, this is a cake. And on this blog, a cake can only mean one thing: it's Daring Bakers challenge time again.
Morven (Food Art and Random Thoughts) selected Dorie's (as in baker/author extraordinaire D. Greenspan) Perfect Party Cake for this month.
I made the cake for my own birthday party. This got me slightly in trouble with my family, who have a notion that one should never make one's own birthday cake. But this is Birthday Rule #2. Rule #1, which always trumps Rule #2, is that the birthday girl gets to do what she wants. They knew I had them there, and they were just going to have to get over it. As you can see if you count the candles carefully, this was my 20th birthday. Sure it was.
I wish I had an amusing tale to tell about something going horribly wrong but salvaged in the end by my brilliant ingenuity and intrepid Daring Baker spirit. But no. This was, in fact, a piece of cake from beginning to end. This is a testament not to my mad cake-baking skills (ha! not!) but to the true perfection of Dorie Greenspan's recipe, from her book Baking From My Home to Yours.
Although we had quite a bit of leeway this month to adapt the cake to our own tastes, I made mine exactly according to the original recipe: lemon-scented cake (it's Meyer lemon season, yes!), lemon buttercream frosting, raspberry jam filling, and a shredded coconut veil.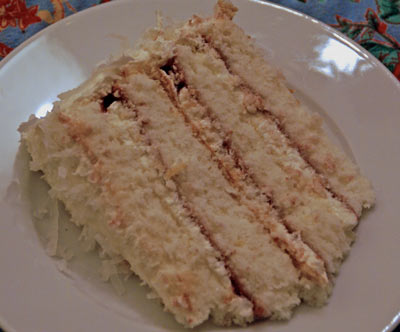 Although I must admit that desserts on the rustic side are usually more my style (think bread pudding, berry crisp, etc.), I loved this. Rich, elegant, beautiful, a perfect flavor combination. Everyone at my birthday dinner loved it too, though my husband said he thought it could have done without the raspberry because there might be a bit too much going on flavor-wise. (Sorry my love, but it's hard to take this seriously from a man who cannot eat Thanksgiving dinner without putting the turkey, cranberry sauce, gravy, potatoes, squash, and sweet potatoes all on his fork at the same time.)
Anyway, as of now this is my go-to recipe for all birthday cakes. I had such success that next time I'll feel confident playing around with different variations. My fellow Daring Bakers have made some jaw-dropping cakes this month, so go help yourself to some virtual slices. I suggest not doing this on an empty stomach.
A few of my observations from this month's challenge:
Most recipes say not to overmix cake or it will toughen. Dorie's recipe specifically instructs beating the batter for a full two minutes to aerate it. The cake was indeed light and tender, not tough at all. Even though the recipe called for cake flour (which is low-protein), I was surprised.
Toothpicks stuck around the sides of the two baked layers were very helpful as guides for slicing the layers in half. A really long serrated knife is also good to have.
I had the tiniest bit of trouble spreading the buttercream over the raspberry jam between layers, maybe because the buttercream was a little thicker than it should have been. In the future I will try beating the buttercream a little less, and if it's still too thick, put the buttercream down first, then the jam.
The jam squished out at the sides when I put the layers together. Even though I tried to wipe it away, it was challenging to apply the light-colored frosting to the outside of the cake without getting red jam streaks through it. I found that a very thin "base coat" of frosting helped to "fix" the jam in place and I could then apply a thicker final coat of frosting without mucking it up.
The coconut was great at masking imperfections in my frosting technique!