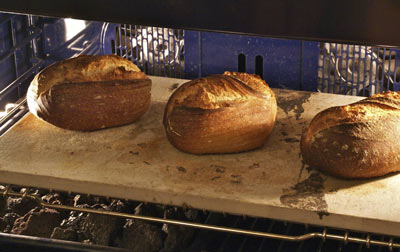 (Public Service Announcement: Even if you know all about baking stones, you may find it worthwhile to read this post through to the end.)
You can spend a fortune on bread-baking tools and gadgets if you want to (and I admit I've done my part to stimulate that little piece of the economy). But when you get right down to it, the most glorious loaf can be produced using only a minimum of tools: your hands, a surface or container for mixing the dough, an oven of some kind, and something to hold the bread in the oven.
If you're after crusty artisan (or artisanal, if you're so inclined) hearth-style breads, that thing that holds your bread in the oven should be a baking stone.
When you put a loaf into any hot oven, the bread bakes by radiation (heat coming at the loaf directly from the element and oven walls) and by convection (hot air circulating in the oven chamber).
When you put a loaf onto a hot stone within a hot oven, the bread bakes by conduction as well; heat is transferred to the dough via direct contact with the hot stone. Conduction allows heat to be quickly and efficiently transferred through the entire mass of dough, which allows the interior to rise in the oven, and water to be evaporated away, before the outer crust has a chance to set and limit its expansion. The end result is that these loaves generally have greater "oven spring" and a crisper crust than pan-baked breads.
Another advantage of a stone is that it helps to maintain the oven at a constant temperature. The stone increases the thermal mass (heat-storing capacity) of the oven, so once the oven and stone are hot, the oven has to work less hard to stay hot, and the temperature recovers more quickly after opening the oven door than it does in a stoneless oven.
A baking stone can be as simple as unglazed terra cotta tiles available inexpensively from any building supply store, and of course there are several products specifically sold as baking stones.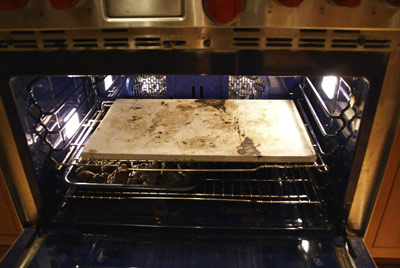 For the past three years this Fibrament stone has been my stone of choice (you can tell because well-stained means well-used). It is thick and heavy, and while I can honestly say that other stones I've used have gotten the job done, there are a number of things that make the Fibrament my favorite:
It doesn't break. Every other stone I've used has broken within a year. (The Fibrament might break if you dropped it on the sidewalk, so don't carry it around outside.)
The Fibrament's 3/4-inch thickness gives it more thermal mass than other stones, which are typically 1/4 to 1/2-inch thick. This thing retains heat like nobody's business.
The stones are available in several stock sizes but can also be custom-sized. A custom size allows you take full advantage of your oven's capacity. Fibrament advises a one-inch gap between the stone and each side of the oven. (I left a little more space on one side, so that the steam from my steam pan underneath the stone has an escape route up to the baking bread.)
So you're still with me. As promised, there's a payoff:
— UPDATE: The giveaway has ended. —
Mark of Fibrament has very generously agreed to send a custom-size stone to one of you, provided you live in the continental USA. Leave a comment about why you love to bake, or why you want to learn, by 11:59 PM on March 9, and if yours is the one I choose at random, I promise you will be a very happy camper.