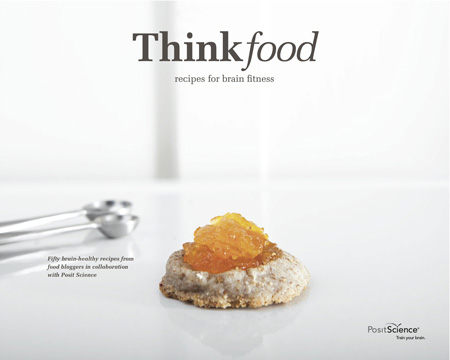 The piece of gorgeousness you see here is the cover of a brainy new cookbook — and I'm in it!
Thinkfood is a collaboration between Posit Science and 50 food bloggers, each of whom has contributed a recipe featuring an ingredient known to improve memory, concentration, mood, or other brain-powered functions. With foods like flax seed, almonds, tuna, spinach, cinnamon, and more — doing their brilliant thing in everything from snacks to side dishes to main courses to desserts — you can eat smarter to be smarter.
You'll have to stay tuned to find out what recipes I and the other bloggers contributed, but I think you'll agree that the list of blogs is pretty damn impressive, so you just know the recipes are going to be wonderful.
The hard-cover book will be available in July, but you can start cooking more cleverly right now by signing up for the Thinkfood Recipe of the Week. Beginning today, one recipe will be distributed by email every Wednesday for the next 50 weeks.  You'll have free access to the printable version of the recipe, which includes more information about the brain-healthy ingredient.
Each of us will have a hardcover copy of the cookbook to give away during the week our recipe is featured, so make sure you visit the blog of the week, all 50 of which — like Thinkfood — are exceptional packages of style, smarts, and good taste:
Ambitious Deliciousness • Anne's Food • Apples and Butter
The Arugula Files • Best Fruit Now • Brown Eyed Baker
Carrots 'N' Cake • Chocolate Shavings • Closet Cooking
Cooking with Amy • Daily Unadventures in Cooking • Dash and Bella
Dine & Dish • Dixie Caviar • Eclectic Recipes • eCurry
Fake Food Free • Food Blogga • Food Loves Writing
For the Love of Cooking • Gourmet Fury • Greedy Gourmet
Hangry Pants • Healthy Everythingtarian • Herbivoracious • Katiecakes
La Note Restaurant • Laurel On Health Food • The Leftover Queen
Lisa's Kitchen • Local Appetite • The Lunchbox Bunch
Make Life Sweeter • My Cooking Hut • My Sweet Vegan
Napa Farm House 1885 • O-Cookies • Off the Broiler
Off the (Meat)Hook • Pink Bites • Project Foodie • Sassy Radish
Seriously Good • Shelteriffic • A Southern Fairytale • Stone Soup
Sugar Bar • Super Healthy Kids • Tastes Like Home • Wild Yeast