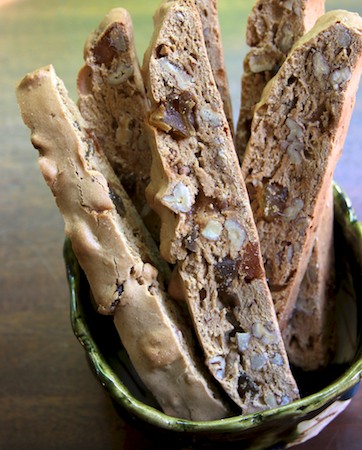 Sourdough biscotti have been on my mind for a while, but they posed a bit of a challenge: with sourdough starter comes water, and extra water is not something that we usually want in any cookie dough, never mind biscotti. For these "twice-baked" cookies, the dough is formed into a log and partially baked, then sliced and baked again until dry. Extra water is just not helpful here.
The solution I came to, in addition to using a stiff (50%-hydration) starter, is to cut down on the sugar, which behaves very much like a liquid ingredient in a dough. (If you don't believe me, try taking a basic unsweetened dough and mixing in a bunch of sugar; you'll swear you just dumped a bucket of water in there.) So these have about 30% less sugar than you'll see in many biscotti recipes, but interestingly, they taste plenty sweet to me. I would not market them as "diet biscotti." They're definitely dessert.
The dough is still plenty wet, and log-forming is a little tricky. I found a plastic dough scraper helpful to scrape up and shape and smooth the sides once the dough is on the parchment-lined pan. But even if you make your log nice and compact, it's going to start flattening out before it even hits the oven, and after a few minutes in there will look like a praline on a hot New Orleans sidewalk. Don't panic. It will rise (a little) and have a pretty good biscotti shape by the time it's done.
I'm bound to get the question, So why bother with the sourdough? Why not just make them with baking soda or baking powder like a normal person? It's because I can, OK? It might also be because I really like the texture of these — dense and crunchy but tender and crumbly at the same time, and really good for coffee-dipping — but mostly because I can. Now go find someone else to heckle.
The ginger in these is Buderim ginger I buy at Whole Foods. It is labeled "sweetened" and "uncrystallized," and I love it for baking (and eating) because, unlike most candied ginger, the texture is slightly crunchy and not at all at sticky or gummy. This is especially important for these biscotti, because sticky ginger would make them extremely difficult to slice while hot. What's more, you can chop this ginger without having to constantly unstick it from your knife.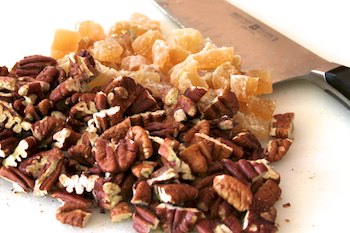 Ginger-Pecan Sourdough Biscotti
Yield: 16 biscotti
Time:
Mix: 15 minutes
First bake: 35 – 40 minutes
Cut and second bake: about 50 minutes
Ingredients:
180 g flour
2 g (3/4 t.) ground cinnamon
2 g (generous 1 t.) ground ginger
4.7 g (generous 3/4 t.) salt
5 g grated lemon zest (from one small lemon)
110 g eggs (2 large)
10 g (2-1/4 t.) vanilla extract
150 g brown sugar
57 g unsalted butter, softened but not melted
125 g toasted pecans, coarsely chopped
125 g sweetened uncrystallized ginger, coarsely chopped
Method:
Preheat the oven to 325F on the convection setting, if you have one, or 350F on the regular bake setting.
In the bowl of a stand mixer fitted with a dough hook, combine the flour, cinnamon, ground ginger, lemon zest, starter, eggs, and vanilla. mix in low speed until the ingredients are well-combined. The dough will be very stiff at this point.
Continue mixing in low or medium speed unti the gluten reaches a low-medium level of gluten development.
Add the sugar gradually, in 4 or 5 increments, mixing for about two minutes after each addition. (The dough will become considerably looser as the sugar is added, and you will not be able to pull a gluten window from this wet dough.)
Add the butter and mix until it is completely incorporated.
Add the pecans and chopped ginger. Mix in low speed until they are evenly distributed through the dough.
On a parchment-lined baking sheet, form the dough into a "log" 10 – 12 inches long and as compact in width as you can make it. (In this photo, it had already flattened some before I could take the photo.)

Bake for about 35 minutes, until the dough is firm but not hard.
Remove to a cutting board and slice into 3/4-inch slices (or whatever thickness you like).

Turn the oven down to 250F. Stand the sliced biscotti up on the parchment-lined baking sheet and return them to the oven for 40 – 50 minutes, until dry.

Cool on a wire rack.