This is a compensated review by BlogHer and HomeGoods.
I get a lot of emails asking me to spend my money, but rarely do I get one asking me to spend someone else's money. So when BlogHer and HomeGoods offered a $50 card for me to spend on gifts, they didn't have to ask twice. And letting me give away a matching $50 gift card to one of you made the deal even better.
HomeGoods stocks all kinds of housewares, but I decided to limit myself to the kitchen and tabletop section in the interest of time. This turned out to be a good idea, as it took me more than two hours to explore the bargains in just that one part of the store.
If you're looking for a specific kitchen thing, you may or may not find it at HomeGoods, but if you do, it will usually beat — and sometimes by quite a bit — your best price at a full-line housewares store or online retailer. If you enjoy just hunting for deals, you'll find gadgets, bakeware and cookware, dishes, table linens, small appliances. There are "bargain brands" as well as top names like Calpahlon, Cuisinart, All-Clad, and…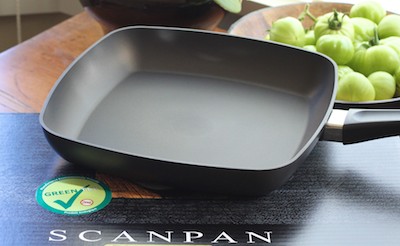 Scanpan! Now before I say more, I would like to point out that 1) BlogHer said it was perfectly okay to use the money to buy a gift for yourself, and 2) I am selfish.
Now that we've clarified that, back to the Scanpan: I was already the very happy owner of one of these fantastic Danish ceramic titanium nonstick pans, but I didn't think I'd ever own another one — these things are expensive! But HomeGoods had a 12-inch (or so) covered saute pan for $50, an 8-inch covered saute pan for $40, and a 10-inch square fry pan — the one I opted for — also for $40. Those prices are a 33 – 67% savings over even the best online prices I could find for those pans.
I got the best-cooking, best-cleaning nonstick surface I've ever had the pleasure of cooking with, on a pan that is the perfect shape for French toast!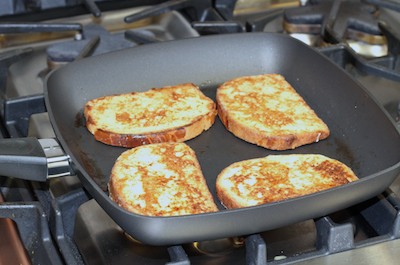 Oh, and I also had enough of my $50 left to buy this adorable apron for my adorable mother, who taught me never to pass up a good bargain.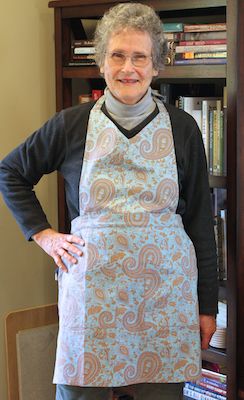 That was the fun part for me. Here's the fun part for you (and me): I get to give away a $50 gift card, courtesy of HomeGoods and BlogHer. Here are the details:
You may receive (2) total entries by selecting from the following entry methods:

Leave a comment on this post, telling me whom you'd like to shop for (yourself counts!) and the kinds of things you'd have in mind for them.
Tweet about this promotion and leave the URL to that tweet in a comment on this post.
Blog about this promotion and leave the URL to that post in a comment on this post.
No duplicate comments, please.
See the official rules for alternate form of entry.

Sweepstakes ends at 5 PM PST on December 29, 2010.
This giveaway is open to US Residents age 18 or older.
Winners will be selected via random draw, and will be notified by e-mail.
You have 72 hours to get back to me, otherwise a new winner will be selected.
The official rules are available here. To see what other bloggers did on their shopping trips, visit the sweepstakes roundup.
Full disclosure: In addition to the $50 gift card, I received additional compensation for this review. All opinions are mine.