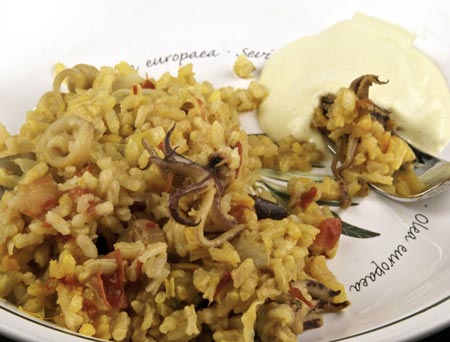 Daring Cooks is supposed to be all about learning. And I have to say, I did learn something important with this month's challenge: I am lazy.
The dish proposed by Olga (Olga's Recipes) was José Andres' Rice with Mushrooms, Cuttlefish, and Artichokes, accompanied by allioli (kind of like a garlic mayonnaise). And a very lovely and wonderfully tasty dish it was, its shortcomings fully accounted for by my own indolence:
I did not perform an exhaustive search for cuttlefish. After calling three fish markets and finding none of them to have it, I went to Whole Foods and bought frozen squid. It was not bad but I would still like to know what cuttlefish tastes like.
I used canned artichokes, even though this is very much artichoke country. Canned artichokes do not compare with fresh at all. Shame on me.
I made the Modern Allioli (blender, less garlic, with egg) rather than the Traditional (mortar and pestle, more garlic, no egg) even though this is very much garlic country and I actually do own a mortar and pestle and I do worry about raw egg. It was good, though, and I suppose if the egg were going to make me sick, it would have by now.
I had to cut down on the water because I knew the rice wouldn't all fit in the pan with all the water. However, I was too lazy to then recalculate the rice amount, so I just threw it all in. Consequently, this did not end up being what you would call a moist and creamy rice dish.