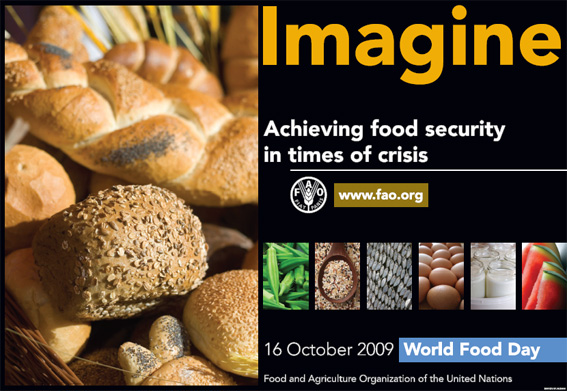 Can you imagine? It's World Bread Day and I have no bread.
Well, I mean, of course I have bread. I have bread all day every day. I have more baguettes, boules, batards, and other assorted loaves than I know what to do with. I come home from class in the afternoon and scrape dough from my fingernails, brush flour from my hair, and shake crumbs out of my clothes.
But for World Bread Day, I wanted to contribute my own bread from my own kitchen. I actually did bake last night for the occasion, but the taste wasn't really what I wanted. I will eat it, but I won't post it, not now, not until I can tweak it until it's right.
So here I am, breadless on World Bread Day. A breadless brat. "I don't like that bread. I want a better bread."
Now imagine if I were really breadless. Imagine if you were too. Imagine if we were among the world's one billion people that are affected by food insecurity, according to the Food and Agriculture Organization of the United Nations, which has designated today, October 16, World Food Day. Imagine that. And now imagine something you might do about it.
Now stop imagining and go do it. And be thankful you have any bread at all.