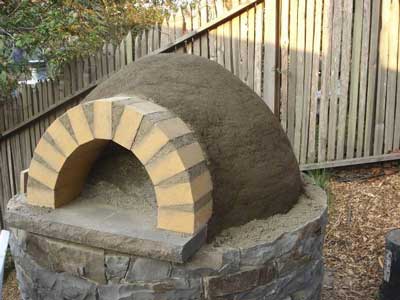 Have you ever watched mud dry? I can tell you it happens excruciatingly slowly. I know this because for ten days I have been monitoring the progress of a four-inch-thick, three-foot-diameter beehive-shaped shell as it transforms from a mixture of soil, sand, and water into a solid, heat-retaining, bread-baking wonder (I hope).
At last report, I had a hearth and a doorway arch. From there, progress was apace for a while. First I packed the spaces between the arch bricks with mud. The following morning, my sister and my niece helped me create the dome-shaped sand form.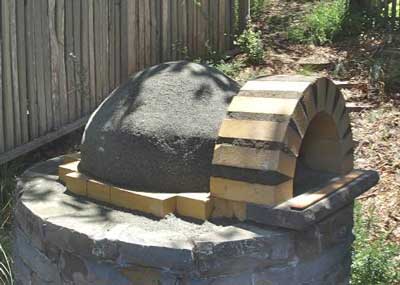 In the afternoon, I sent my helpers off in search of Tule elk while I covered the sand form with newspaper and set about building the mud up around the form. This may seem like a trivial task, but it took me six hours to finish approximately half the job. The mud is applied handful by handful from the base upward. It must be pressed firmly downward into its own slowly-emerging shape, never inward towards the sand form.
At the end of that six hours I was disheartened to find that I had made the mud mixture a bit too wet and it was starting to slump under its own weight. Kiko Denzer warns not to mess with it and try to push it back into shape, as this will only soften the mud more, but of course I found it necessary to test that statement. I can now verify that it is, in fact, true.
In my discouragement, I didn't take any photos at this stage because I had pretty much decided that I would tear the whole thing down and start over. Because I was too tired to do it that day, I covered it with a tarp to keep it wet. I went out at 6AM (yes, morning person here) fully intending to have at it, but I found that overnight the mud had firmed up and settled and seemed like it might be OK.
So I decided to forge ahead (with a less wet batch of mud this time) and keep my fingers crossed. (They're still crossed, just so you know.)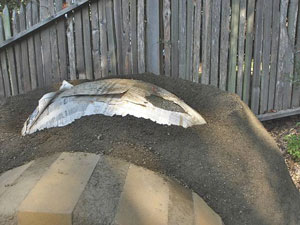 In the photo above, just the top of the dome remains to be built, but this is still about 2 hours away from completion. As the mud rises and angles up and in to stay perpendicular to the sand form, pressing the mud into itself becomes increasingly challenging, especially if the oven stands on the side of a hill.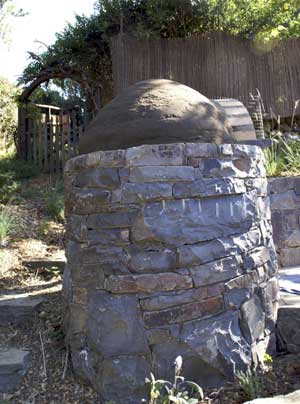 Four days after finishing the mud layer (first photo, above), I scooped out the sand and peeled away the layer of newspaper that separated the sand from the mud shell. I couldn't quite reach it all, but this will burn away with the first fire.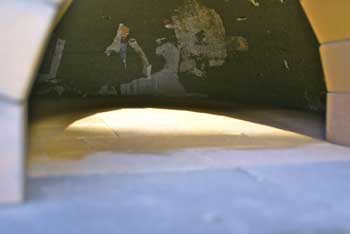 Now I'm waiting… and waiting and waiting… for the thing to dry. Progress is slow because the nights are cool and often dripping wet with fog, so I cover it with a tarp. Even during the day, the oven is mostly in shade. But I don't think this slow drying is a bad thing in the long run, because I'm hoping it will minimize cracks, which are expected as the mud shrinks while drying. I've decided not to build a drying fire inside, but that means the suspense is killing me. Looks like my poor mud-parched fingers will have to remain firmly crossed for at least another couple of weeks.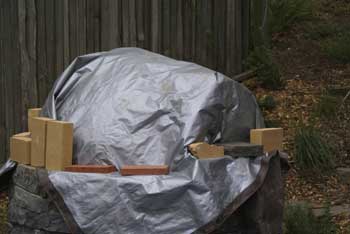 Once it's dry, I can bake in the oven, but it won't be completely finished until I add a four-inch-thick insulating layer (mud and sawdust) and a finish plaster over it all. This is going to take a while…