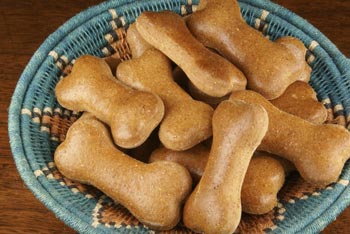 Last month, my 18-year-old daughter M, recently back from school in Europe and living with me while looking for an apartment and taking classes locally, nervously approached me. "Mom, I have to tell you something, and you're not going to be happy about it."
That right there was almost as thrilling as the time I got a phone call from a man identifying himself as a Highway Patrol officer and wanting to know if a certain young man was my son. He was (and still is)… but let's not dwell on the past.
In the first few seconds, my thoughts ran something like this: I see no bruises no broken bones no scratches on the car   she could be failing her classes but probably not she's bright and usually does her homework   god help her if she broke my oven but it was working last I checked—
Oh. OH. No. But what else? Realization settled in: patter… of… little… feet. Oh my. Well. Hm. No. No no no no no! OK, let's not panic here. She can still finish school, she can still—
Little feet, indeed. Moms always know these things.
"I got a dog."
Like I said, she's a smart one. Anyone who can elicit the words "Oh, thank GOD, you got a DOG!" from my lips, when the words "What the hell were you thinking?" rightfully belong there, is no dummy.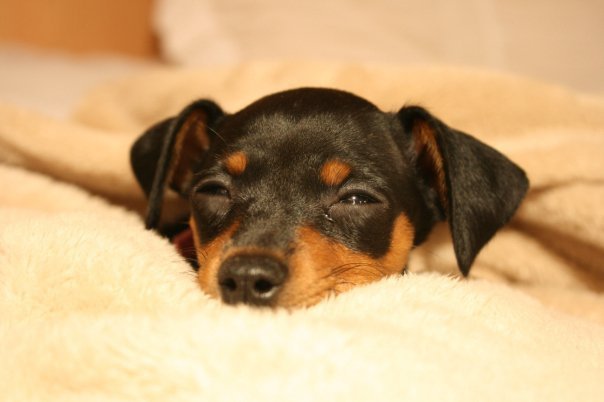 Now before you go assuming that I'm a pathetically oblivious parent not to have noticed that my daughter had been keeping a puppy in her room for two days, or wondering why our Boston Terrier, Ruby, didn't tip M's hand, consider that Roxy, the Miniature Pinscher in question, weighed all of 2.5 pounds when she joined the household. Small enough for M to take in her coat pocket, for crying out loud, when she went to class or was otherwise out of the house. And when she was here, small enough to curl up and make like a dust bunny if I happened to poke my head into M's room. As for Ruby, well, she's getting old and one needs to make allowances.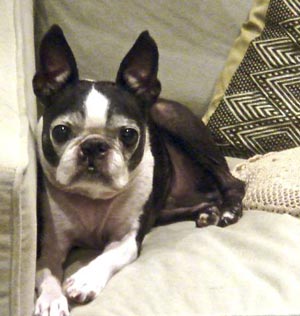 I didn't notice until after I made these dog biscuits (which are much too big for both Roxy and Ruby, but can be easily broken) that Nancy Silverton, from whose Breads from the La Brea Bakery the recipe is adapted, says they make good teething biscuits for babies too. So I guess we can just call them Little Feet Biscuits and cover all the bases. Not that I want M to get any more ideas.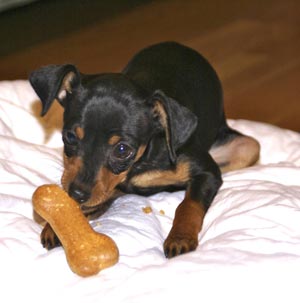 Sourdough Dog Biscuits
Yield: a lot
Ingredients:
341 g whole wheat flour
227 g flour
558 g mature 100%-hydration sourdough starter
174 g water
45 g wheat germ
85 g yellow corn meal
45 g vegetable oil
1.5 cubes vegetarian bouillon, crumbled (the original La Brea recipe contains no bouillon and instead has 1 t. salt and 1/4 c. fresh mint leaves)
1 egg, lightly beaten
Method:
In the bowl of a stand mixer fitted with a dough hook, combine the flours, starter, water, wheat germ, corn meal, oil, and bouillon. Mix on low speed for about a minute, until the ingredients are roughly combined.
Continue mixing on medium speed until the dough comes together around the hook. This might take about 4 minutes, but will depend on your mixer.
Turn the dough out onto a lightly floured counter and work for a minute or so, until you have a smooth ball.
Wrap the dough tightly in plastic wrap and ferment for 2 hours at room temperature.
Meanwhile, preheat the oven with two oven racks, to 400F.
Working with half the dough at a time, turn it onto a floured counter and roll it out to a thickness of about 1/3-inch. Cut out shapes with a cookie cutter. You can gather the scraps and reroll as often as necessary to use all the dough. For bite-sized treats, I rolled thin ropes of dough and used a dough cutter to cut it into small pieces.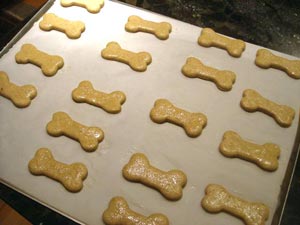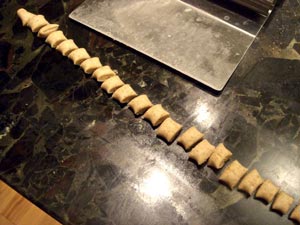 Place the biscuits on a parchment-lined baking sheet and brush with beaten egg.
Bake two sheets at a time for about 30 minutes (less for the bite-sized bits), rotating the sheets halfway through the bake, if necessary, to ensure even browning.
When all the biscuits have been baked, consolidate them onto two baking sheets. Turn the oven off and put the biscuits back into the oven, with the door ajar, for about 15 minutes to dry out.
Cool completely on a wire rack. Store in an airtight container.