I have an accordion recipe file, the kind that has a pocket for each category, and when you want to find a recipe you have to dump everything in the pocket out — the index cards, the magazine clippings, the scraps of paper torn from whatever legal pad was handy at the time — and sift through them one by one for the one you want.
I've had it since 1982, and I don't use it too much any more, but there are certain old recipes in there that I use regularly but that never made it onto the computer, like my mother-in-law's pork tenderloin and Christmas cookies, and many more that I never used and never will but never got around to tossing. It's a mess, really.
I can't even tell you what I was looking for in "Cakes, Pies & Baked Goods" the other day — it won't be cookie season for a while — but what I found was this: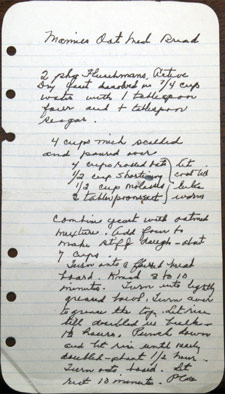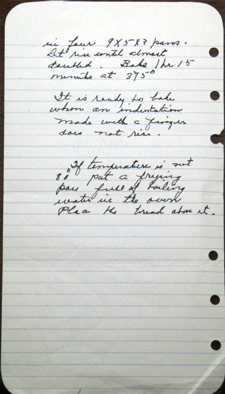 It's a recipe, in my grandmother Molly's unmistakable hand, for Mamie's Oat Meal Bread. Mamie was her mother, who died long before I was born. Molly herself died in 1988, and the steadiness of the writing tells me this was written well before that, so I have to have had that recipe for a good long while. But honestly, I never knew I did. In all the times I've rifled through that file looking for Russian Tea Cakes or Candy Cane Cookies, I swear I never ever saw it.
Now here's what I want to say about this bread: I want to say that it was as essential to my childhood as kickball and cartoons. That on a cold Maine summer morning, the molasses aroma of this bread wafting up through the floorboards of the drafty cottage to my bedroom above was just about the only thing that could entice me out from underneath my toasty comforter. That a warm slice slathered with butter, eaten in the kitchen while Molly puttered around doing grandmotherly kitchen things, was as close to perfect as any breakfast I could imagine.
I do want to say that, but it would be a lie. It would be the truth about Molly's Tollhouse cookies (that's Tollhouse, not chocolate chip, and yes, Mom, she gave us cookies for breakfast!), but a lie about the bread. The truth is, I don't remember this bread, or any other, coming out of my grandmother's oven.
And yet, that recipe didn't just materialize in my file of its own accord. There was bread in my grandmother's kitchen, of course there was, although I don't remember it; bread was not as exciting to me as cookies, in those days. Which one of us knew that, although I was not a bread baker when she was alive, I would one day want to have this recipe? I imagine it was Molly, that she offered and I accepted it politely, because you don't argue with your grandmother and because I didn't want to hurt her feelings, but inwardly rolling my eyes a little, certain I would never use that recipe. I imagine that it was she who knew that it would someday matter to me; it was she who knew me better than I knew myself.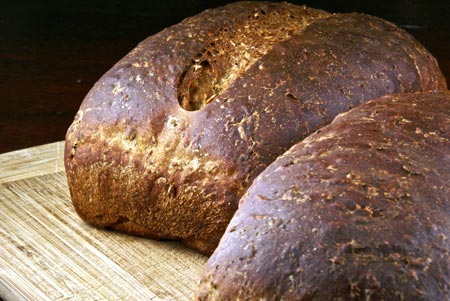 Here's the recipe, exactly as written by my grandmother and exactly as made by me, right down to the packets of Fleischmann's Active Dry Yeast, which I never use and had to buy especially for the occasion, because you don't argue with your grandmother.
Mamie's Oat Meal Bread
2 pkg Fleischmann's Active Dry Yeast dissolved in 1/4 cup water with 1 tablespoon flour and 1 tablespoon sugar
4 cups milk scalded and poured over
4 cups rolled oats
1/2 cup shortening
1/2 cup molasses
2 tablespoons salt [Next time I would use a bit less.]
Let cool till luke warm.
Combine yeast with oatmeal mixture. Add flour to make stiff dough — about 7 cups. [My dough took almost 9 cups, but everyone measures cups differently.]
Turn onto a floured bread board. Knead 8 to 10 minutes. Turn into lightly greased bowl. Turn over to grease the top. Let rise till doubled in bulk — 1 1/2 hours. Punch down and let rise until nearly doubled — about 1/2 hour. Turn onto board. Let rest 10 minutes. Place in four 9 x 5 x 3 pans. Let rise until almost doubled. Bake 1 hr 15 minutes at 375°. [Mine was done in about 50 minutes.]
It is ready to bake when an indentation made with a finger does not rise. [This took my loaves about an hour and 45 minutes.]
If temperature is not 80° put a frying pan full of boiling water in the oven. Place the bread above it.