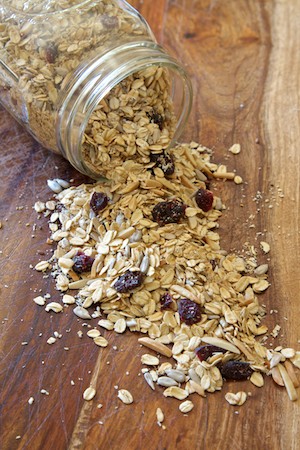 I'm continuing on my quest to use up odd-lot ingredients in the freezer (by which I mean the freezer and refrigerator, various cupboards, the pantry, and a few kitchen shelves; yes, we are quite overrun, still).  I thought I'd make granola, since it's one of those throw-in-whatever-you've got enterprises, but Jay wanted to know if I could make it without any sugar.
Well, let's see… Definition of granola: oats mixed with dried fruits, nuts, and seeds, held together when baked with honey, sugar, maple syrup, or other sticky sweet stuff. Take away the sweet sticky stuff, and that's… muesli!
This one is adapted from the lovely Vintage Mixer. I think most muesli recipes do not call for the grains to be toasted, but here they are. I like that because it enhances their flavor and makes them bear up a little better when consorting with milk, yogurt, juice, or whatever you're eating it with. I also toasted the almonds and coconut, because that makes them taste better. But then I got tired of toasting things, so I left the sunflower seeds raw.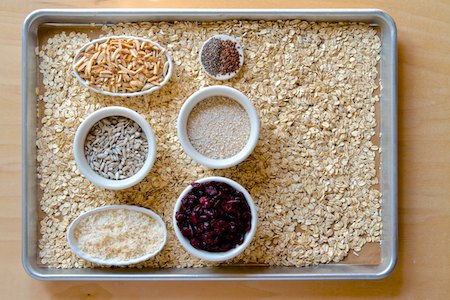 Muesli
Yield: 4 cups
Time:
Toast and cool things: 30 minutes
Mix: 5 minutes
Ingredients:
120 grams (1 cup) spelt flakes
155 grams (1.5 cups) rolled oats
40 grams (1/2 cup) unsweetened finely shredded coconut
55 grams (1/2 cup) slivered almonds
65 grams (1/2 cup) dried cranberries and raisins
47 grams (1/2 cup) oat bran
70 grams (1/2 cup) sunflower seeds
[and here's where I got tired of weighing things; shhh, don't tell anyone!]
1/2 teaspoon chia seed
1/2 teaspoon flax seed
1/4 teaspoon cinnamon
Method:
Heat the oven to 350F. Spread the spelt and oats on a baking sheet and toast for 15 minutes, stirring halfway through.
Meanwhile, in a dry skillet over medium-high heat, toast the almonds, stirring constantly, until fragrant and lightly browned.
Remove the almonds from the skillet and add the coconut. Toast over medium-high heat, stirring constantly, until barely golden.
Cool the toasted ingredients.
Mix all of the ingredients together in a bowl.
Store in an airtight container.