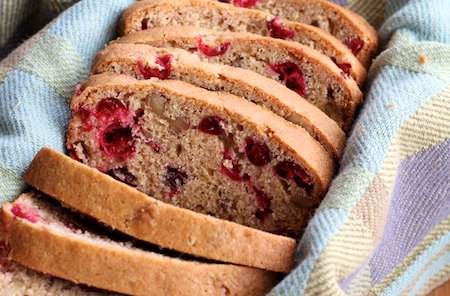 This is the recipe I said I would not post. At least, it's the recipe for the cranberry bread I'll be serving for Thanksgiving this year.
Three years ago I wrote (and re-posted for the two years following that) about why I never changed Thanksgiving dinner, why it had been the same reliable cranberry bread for years (along with the same turkey, the same stuffing, and the same potatoes), and would be for years to come. It was the recipe from the back of the bag of Ocean Spray cranberries; you could get it there if you wanted it, and I wasn't about to go messing with it.
So this year, I messed with it, a little. Added some whole wheat flour. Took away some sugar. Made the loaf a little bigger. Converted everything into grams because that just feels better to me. Call it fine tuning.
In the scheme of things, it's not that big a deal. And by the scheme of things, I mean that for the past year — and for the first time ever in my life — my household has consisted of just me. Throw a new home, graduating from baking school, and becoming adept at toilet repairs into the scheme, and messing with a cranberry bread recipe is just not that big a deal.
It's all good, because even really fine, reliable traditions can use a little fine tuning every once in a while, and even really fine lives can withstand some major turbulence.  Because even when the bread changes, the house changes, the life changes, and the plumbing breaks, I still have so much to be thankful for. (And if it makes anyone feel any better, I didn't change the stuffing recipe at all.)
Have a beautiful Thanksgiving, everyone!
Cranberry Bread
This bread freezes well. I suggest slicing it before freezing; once thawed, wrap it in foil and put it in a 350F oven for 10 minutes right before serving.
Yield: one 10 x 5-inch loaf
Time:
Prep and mix: 15 minutes
Bake: 55 minutes
Ingredients:
169 g flour
135 g whole wheat flour
200 g sugar
6.6 g (1-1/8 t.) salt
2.5 g (1/2 t.) baking soda
6 g (1-3/4 t.) baking powder
31 g butter, melted
55 g egg (one large), beaten
195 g orange juice
6 g orange zest (from one medium orange)
188 g cranberries, very coarsely chopped
65 g walnuts, very coarsely chopped
Method:
Preheat the oven to 350F, or 325F if you have a convection setting.
Butter a 10 x 5-inch loaf pan. Line the bottom with parchment paper and butter the parchment.
In a medium bowl, combine the flours, sugar, salt, baking soda, and baking powder.
Add the butter, egg, orange juice, and orange zest; stir to combine.
Add the cranberries and walnuts; stir just until evenly distributed.
Spread the batter in the prepared pan and use a spatula to smooth the top.
Bake for about 55 minutes, until a bamboo skewer poked into the center of the loaf comes out clean.
Cool in the pan for 10 minutes, then remove and finish cooling on a wire rack.