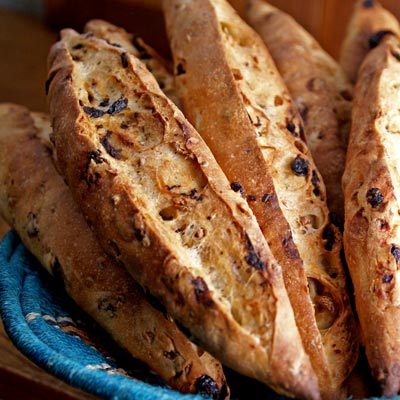 Can anyone tell me what I should call these cute pointy-ended mini loaves? I would not call them rolls because that connotes something round-ish. Or am I making that up? They're 7 or 8 inches long and 1.5 inches in diameter — not long enough to be called baguettes or ficelles, I think. So what are they?
I used the recipe for Semolina Bread with Currants, Fennel, and Pine Nuts, with some changes: I toasted the pine nuts (make sure they're cool before adding them to the dough), and I substituted anise seed for 2.5 g of the fennel. I also used a bit less water than in the original recipe, because my flour was not as absorbent today. They were baked at 440F for 12 minutes. Dividing the dough at 50 grams, the recipe made 21… things.
Despite being nameless, they're pretty good. A lot of crunchy crust for the buck, and quite sweet, despite having no sweetener except the seeds (anise makes it sweeter than the original) and currants.