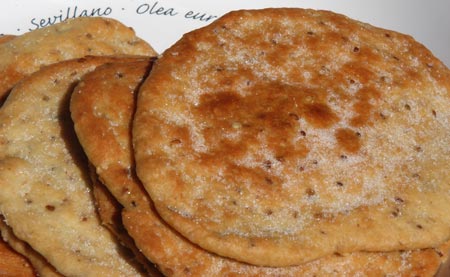 Oh my goodness. When my daughter went to Sevilla, Spain two summers ago, she brought back some tortas de aceite, the crisp, lightly sweet olive oil wafers traditionally made there, and I was in love.
Imagine my delight when, paging through Penelope Casas' excellent La Cocina de Mama: The Great Home Cooking of Spain, I found a recipe for tortas de aceite that calls for leftover bread or pizza dough. I had that leftover dough! And in short order, I had those tortas. I was in love all over again.
I made these a few times and discovered that either pizza dough (made with a bit of olive oil; my dough was left over from making grissini), or a basic French bread dough (no oil), can be used. I refrigerated the dough after the first fermentation and kept it a day or two before making the tortas.
I also found that incorporating the generous amount of olive oil into already-developed dough was neat and quick with a food processor, whereas by hand it was a bit messy, though certainly doable. Take your pick.
Tortas de Aceite (Olive Oil Wafers)
(adapted from La Cocina de Mama: The Great Home Cooking of Spain by Penelope Casas)
Ingredients:
125 g bread or pizza dough
1 T. sesame seeds
2 t. anise seeds
1/4 c. olive oil
zest of 1/4 lemon, in wide strips
1.5 t. anise liqueur
70 g flour
sugar for sprinkling
Method:
Preheat the oven to 375F.
If the dough has been refrigerated, remove it from the refrigerator.
In a small skillet over medium-high heat, toast the sesame and anise seeds until they are fragrant and the sesame seeds start to pop.
Optional step: Transfer the seeds to a mini-processor or mortar and pestle and grind them a bit (they should not be be completely ground up).
In a small skillet, heat the olive oil and lemon zest over high heat until the peel is black. Remove the zest and cool the oil.
Place the dough, seeds, olive oil, and anise liqueur in the bowl of a food processor. Pulse until the oil is evenly distributed through the dough (but it will not really be incorporated into the dough).
Add the flour and pulse until a homogeneous ball of dough forms. It will feel very soft and oily.
Turn the dough onto an unfloured counter and divide it into 8 balls (about 30 g each). Roll each ball into a 4-inch round (initially roll them a little larger to allow for some spring-back).
Place the rounds onto a parchment-lined baking sheet and sprinkle them lightly with sugar.

Bake for 15 – 17 minutes until the wafers are lightly brown.
Remove the wafers from the oven and turn on the broiler. When the broiler is hot, broil the wafers about 5 inches from the heat, until they appear toasted and some of the sugar has melted, about 40 seconds. (Watch them to make sure that they do not broil too long!)
Cool on a wire rack.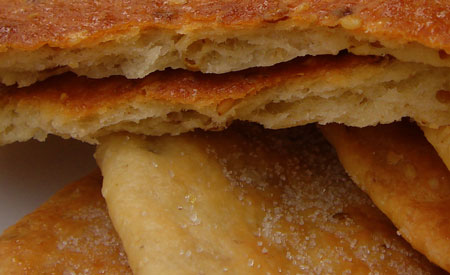 Enjoy these with morning coffee, or any time. If by some miracle they're not all gone within a few hours, you can wrap the wafers individually in waxed paper. But I've not been able to keep them around long enough to tell you how long they will last that way.