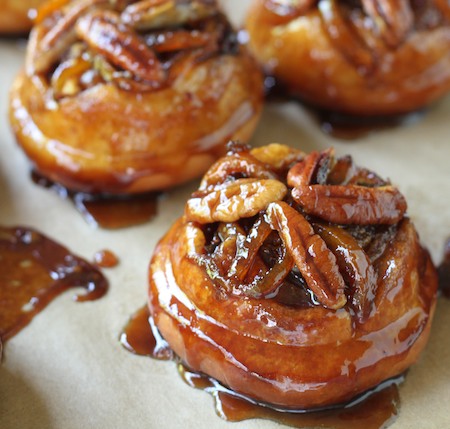 I looked at the ingredient list for this month's Paper Chef, and this is what it said:
dried dates • cranberries • flour • candied orange peel
This is what I read:
dried dates • cranberries • candied orange peel
And I thought, Hm, only three ingredients. Aren't there supposed to be four? Apparently I have come to take flour completely for granted. Like air.
Paper Chef is a creative challenge where the month's host draws three ingredients at random from a collectively-compiled list and adds a fourth of his or her choosing. I haven't participated often, since the list is apt to include ingredients like salmon or liver, which don't particularly lend themselves to bread. But this month, I couldn't resist the combination of fruits that turned up in the lottery.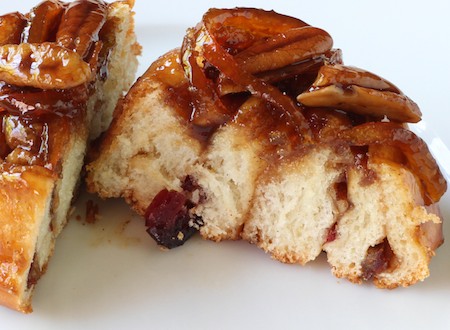 Making your own candied orange peel is easy, and for these buns it is not necessary to coat the peels in granulated sugar after cooking them in syrup. In fact, you could probably get away with using thin strips of fresh peel, since they would effectively candy themselves in the brown sugar glaze as the buns bake.
I used regular-sized muffin tins for these buns, which makes them smaller than the average sticky bun. A nice size, but you could also use jumbo muffin tins and get about 12 buns from the same amount of dough.
Orange-Pecan Sticky Buns with Dates and Cranberries
Yield: 18 buns
Time:
Mix: 10 minutes
First fermentation: 2 hours at room temperature, then overnight in the refrigerator
Shape: 15 minutes
Proof: 90 minutes
Bake: 25 – 30 minutes
Dough Ingredients:
518 g flour
280 g milk, at room temperature
54 g sugar
50 g (1 large) egg, at room temperature
10 g instant yeast, preferably osmotolerant
10 g salt
5 g diastatic malt (omit if unavailable)
grated zest of 1/4 medium orange
seeds scraped from 1/3 vanilla bean
78 g butter, softened
Filling Ingredients:
70 g sugar
65 g brown sugar
1/4 t. cinnamon
1/4 t. coriander
40 g chopped pecans
40 g chopped dried dates
40 g chopped dried cranberries
Topping Ingredients:
18 T. butter
18 T. brown sugar
36 pecan halves, each cut in half lengthwise
very thin strips of candied orange peel, 2 – 3 inches long (3 or 4 strips per bun)
Method:
In the bowl of a stand mixer with dough hook, combine the dough ingredients except the butter. Mix in low speed until the ingredients are incorporated and hold together around the hook.
Continue mixing in medium speed as you gradually add the butter.
Continue mixing to a medium-high level of gluten development.
Transfer the dough to a buttered container. Cover and ferment for 2 hours at room temperature.
Line a baking sheet with parchment paper and flour t lightly. Pat the dough into a rectangle on the parchment, slip it into a plastic bag, and place in the refrigerator for 8 – 12 hours.

Meanwhile combine the filling sugars in a small bowl, and the filling dates, cranberries, and pecans in another bowl.
Before removing the dough from the refrigerator, butter 18 muffin tin cups, or spray them with pan spray. You will also want to butter or spray the top surface of the tins.
Place one tablespoon of butter in each cup and press with your fingers to form an even layer of butter. Top the butter with one tablespoon of brown sugar, again pressing into an even layer.

Arrange four pecan pieces on the sugar, then three or four orange peel strips.

Preheat the oven to 340F on the convection setting, or 360F on the conventional setting.
Turn the dough onto a floured counter. Roll it into a rectangle about 13 x 20 inches. Brush the dough lightly with water.
Spread the filling sugar mixture over the dough, leaving a one-inch border along one long edge. Distribute the fruit-nut mixture evenly over the sugar.

Starting at the edge opposite the unsugared border, roll the dough rather loosely into a log.

WIth a sharp knife, trim the ends off the log and then cut it into 18 rounds. Place the rounds into the prepared muffin tins and press them down gently onto the bottom layer (which will become the topping/glaze).

Proof, covered, 60 – 90 minutes at room temperature, until the indentation left by a fingertip springs back slowly.
Place the muffin tins on rimmed baking sheets. Bake for 25 – 30 minutes, until the buns are golden brown and the glaze is bubbling up from below (the reason for the rimmed baking sheets!).

Invert immediately onto parchment-lined baking sheets, being very careful not to get any of the hot glaze on your skin.
These are best served when still slightly warm.