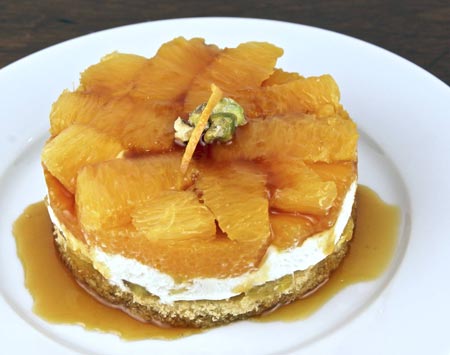 The 2010 March Daring Baker's challenge was hosted by Jennifer of Chocolate Shavings. She chose Orange Tian as the challenge for this month, a dessert based on a recipe from Alain Ducasse's Cooking School in Paris.
As far as I can tell, a tian is any layered dish. I'm not sure if there are other criteria, but the layers are key. They might be vegetables, or meat, or sweet things like pate sablee crust, orange marmalade, whipped cream, orange segments, and orange caramel sauce.
Personally, I like the sweet layers. And I'm always a sucker for a fruit dessert.
As is my wont, I stuck pretty close to the straight and narrow this month, following the challenge recipes mostly exactly. I did make a few modifications, so please give me a small pat on the head for being just a little bit Daring:
I made pistachio pate sablee by replacing 20 grams of the flour in the recipe with 20 grams of pistachios ground finely with 8 grams of the sugar. I had extra dough, so I made it into little sablee cookies, which my daughter was happy to take care of with dispatch. I should have kept the crust circles in the rings while baking to prevent spread, but cutting them down was pretty easy while they were still warm.

I infused the cold cream with 10 crushed cardamom pods for several hours before whipping.
I folded three tablespoons of (homemade!) orange marmalade into the whipped cream, which was three times the amount called for in the recipe. Definitely a case of more is more.