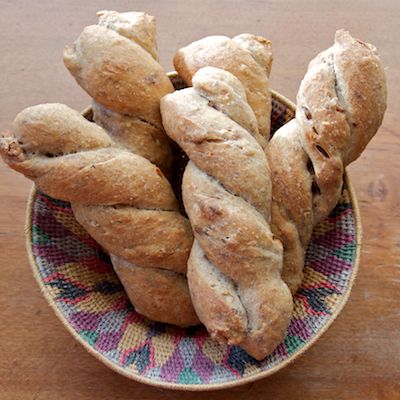 This was supposed to be the month I redeemed myself. After being an utter Slacker Babe for the past three months, I wanted to get back into the good graces of the (ever-gracious and never-guilt-tripping) Bread Baking Babes with these Oatmeal Twists. I'm sorry to say I have failed.
They look nice, but in case you were wondering if the bread-is-very-difficult-to-overbake principle also applies to rolls: it doesn't. Or perhaps it does, and I have acheived the near-impossible. In any case, Elle (FeedingMy Enthusiasms) selected a wonderful recipe for us, her adaptation of Farine's Morning Cuddles. Thanks to about 15 superfluous minutes in the oven, mine were nothing like a cuddle at all. Try morning whack upside the head.
I promise you, the flavor of these twists is just lovely. So I encourage you to be a Bread Baking Buddy by 1) reading the recipe more carefully than I did, and 2) sending the photo of your cuddly-soft twists to Elle by June 29.