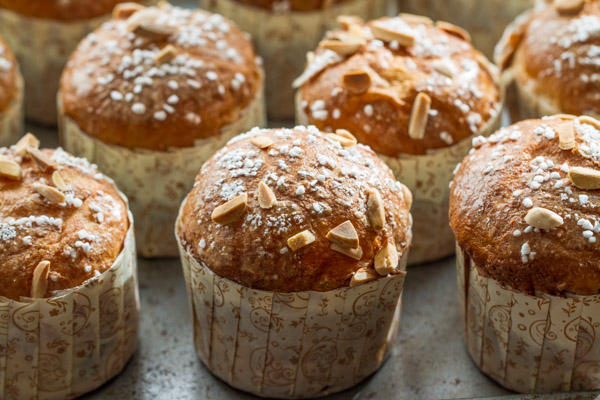 It's panettone time again! I bake this rich, light, citrus-and vanilla-scented bread every holiday season. It's one of my favorite things to make because, although it requires meticulous mixing and handling, a more festive bread never graced a holiday table.
This year I used my go-to recipe, which I detailed in last year's panettone post. The only difference is that, for the first time, I baked it in these wonderful diminutive molds. Although it was a bit more work, I loved ending up with 20 small breads — each perfect for one, or sharing with a friend.
Here's the recipe, nominally modified for the smaller molds. But before beginning, please read the more extensive panettone notes I put together last year. It takes a while to get the hang of panettone, but once you do, you'll be hooked!
Small Panettone
Yield: about about 1500 grams (20 small panettoni)
Time (assumes you are starting with a mature stiff starter):
Build the sweet starter: at least 12 hours, tended to at 4-hour intervals (see below)
Mix and ferment first dough: 12.5 hours
Mix final dough: 30 minutes or longer
First fermentation of final dough: 1 to 1.5 hours, with folds every 20 – 30 minutes
Divide, rest, and shape: 30 minutes
Proof: 4 – 6 hours at 80F, or about 12 hours at room temperature
Bake: about 30 minutes
Hang/cool: several hours
Desired final dough temperature: 74F
First Dough Ingredients:
346 grams flour
190 grams water
1 gram (1/3 teaspoon) osmotolerant yeast, or 1.3 grams (1/2 teaspoon) instant yeast
83 grams sugar
55 grams egg yolk
7 grams (1.5 teaspoons) diastatic malt powder
83 grams unsalted butter, at room temperature
86 grams sweet starter (instructions below)
Final Dough Ingredients:
all of the first dough
82 grams flour
5 grams (7/8 teaspoon) salt
25 grams egg yolk
scraped seeds from 4/5 of a vanilla bean (use the other 1/5 for the glaze)
zest of half a medium orange
114 grams water, divided
82 grams sugar
126 grams unsalted butter, at room temperature (pliable)
19 grams honey
126 grams raisins
170 grams candied citrus peel (lemon and orange), cut into 1/4-inch dice
Glaze Ingredients (optional):
110 grams granulated sugar
6 grams (3 teaspoons) ground almonds (or almond flour)
8 grams (2 teaspoons) vegetable oil
8 grams (4 teaspoons) corn flour
8 grams (1 1/2 teaspoons) cocoa powder
60 g egg whites
scraped seeds from 1/5 of a vanilla bean
Topping (optional):
powdered sugar
slivered almonds
Special Supplies:
20 small paper panettone molds (2-1/2 inches diameter x 2 inches tall)
10 bamboo skewers
Method:
Prepare the sweet starter over a period of one to several days. Its final feeding should be given 4 hours before mixing the first dough.
Prepare the first dough the evening before baking: In the bowl of a stand mixer, mix all of the first dough ingredients just until combined. Cover the bowl and ferment for 12 hours at warm room temperature (about 72F), or longer for a cooler room. The dough should more than triple in volume.
Start mixing the final dough: To the first dough in the mixer bowl, add the flour, salt, egg yolks, orange zest, vanilla seeds, and 40 grams of the water. Mix in low speed until the ingredients are just combined, about 3 minutes.
Turn the mixer to medium speed, mix for a minute or two, then continue to mix while slowly adding the sugar, in about 5 or 6 increments. Mix for one to two minutes between additions.
Continue to mix until the dough pulls away from the sides of the bowl and the gluten is almost fully developed.
Turn the mixer back to low speed and add the butter. Mix for a minute in low speed, then in medium speed until the butter is completely incorporated into the dough and the gluten has reached full development.
In low speed, add the honey, and about half of the remaining water. Mix until the water is fully incorporated.
Add the remaining water and mix until it is fully incorporated.
In low speed, add the raisins and candied peels, mixing just until they are evenly distributed.
Place the dough in a lightly oiled container (preferably a low, wide one, to facilitate folding).
Ferment at warm room temperature for about one hour, folding the dough after the first 30 minutes. If the dough seems very loose, fold it at 20-minute intervals instead.
Turn the dough onto a buttered surface. Divide the dough into 20 pieces of about 75 grams each, and form each piece into a light ball. These balls will not be perfectly round:

Allow the balls to rest (may be left uncovered) for 20 minutes. Meanwhile, skewer the molds; two molds fit nicely onto a single skewer.

To tighten up the dough balls, moisten your hand with water and cup it lightly over the dough, your hand resting on the buttered counter (not so much on the dough itself). Move your hand in a small circle on the counter, lightly pushing the ball around as it touches your fingers, until it has a reasonably smooth surface. Place the dough balls carefully into into the skewered molds.

Proof at 80F for 4 – 6 hours (or about 12 hours at room temperature), until the dough has risen to a half inch or so below the tops of the molds.
When the little panettoni are nearly fully proofed, preheat the oven to 350F, with a large baking sheet inside. (If your oven is not large enough for a baking sheet that will accommodate all 20 panettoni, you can either use two sheets on two racks of the oven, swapping their positions halfway through baking, or bake them in batches, placing half of the panettoni in a cool place to retard the proofing until ready to bake.)
Optional step: To mix the glaze, whisk all ingredients together. Pour, brush, or pipe the glaze evenly onto the top of the loaves. Sift powdered sugar generously over the tops, then sprinkle with pearl sugar and garnish with slivered almonds.
If you leave the panettone unglazed, use scissors to snip an X into the top of the loaf and tuck a small pat of butter inside.
Place the loaves on the preheated baking sheet and bake for about 30 – 35 minutes, until the tops are dark brown and the internal temperature is 185F.
While the panettoni are baking, set up your hanging apparatus. A folding clothes drying rack works well for this. When the panettoni are done, hang them as quickly as possible.
Allow the panettoni to hang for at least four hours, up to overnight.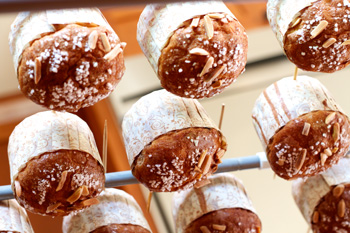 "Sweet" Starter
Ingredients:
20 grams mature stiff (50%-hydration) sourdough starter
flour
water
Method:
 Mix 20 grams of stiff starter with 20 grams of flour and 20 grams of water. Ferment at 85F for 4 hours.
Repeat feedings at 4-hour intervals, each time discarding all but 20 grams of starter, and feeding it with 20 grams of flour and 10 grams of water.
For the nightly feeding before you go to bed, use only 10 grams of starter with the 20 of flour and 10 of water.
Keep the feedings up for at least 12 hours, and up to several days.
For the last feeding (4 hours before you will mix the final dough), start with 40 grams of starter and add 40 grams of flour and 20 grams of water.
Scale out the amount of starter you need for the final dough 4 hours after the final feeding.