Meet my new mission in life: Horst Bandel's Black Pumpernickel from Jeffrey Hamelman's Bread. I made this for the first time over the weekend (yes, it took all weekend) and can verify reports that it is not a breeze. It wasn't a disaster; I definitely have something edible, but it could be so much better. I've been bitten and I know it will keep after me until I get it right.
This is a heavy, dark, dense bread made from rye meal sourdough, soaked and cooked rye berries, cracked rye (which I substituted for unavailable rye chops), a small amount of high-gluten wheat flour, and an old bread soaker. It tastes fantastic. So what's wrong with it? Two words: overhydrated and underbaked. Instead of being pleasantly moist like pumpernickel should be, mine could be called downright soggy.
About the overhydration: For my old bread, I used about a half a loaf of rye sourdough which had sat out until it was extremely hard and dry. So hard, in fact, that slicing it was not going to happen, so I put the whole thing in hot water and soaked it for the specified four hours. It soaked up so much water that after pouring off the excess, I couldn't squeeze the bread out as directed; it disintegrated straight away and I had a mush about the consistency of mashed potatoes. I tried to press and drain in it a colander, but the water just did not want to part from that mush.



On top of that, I overcooked the rye berries.
Hamelman warns that possibly no additional water will be needed beyond what is contributed by the rye berry and old bread soakers, and I didn't add a drop. But those soakers just started out too hydrated to begin with, so I ended up adding more flour to the dough. In the end it was still too wet to shape into a log, so I ended up just plopping the whole gooey mass into the pullman pan.
Of course the extra water and flour added additional mass to the dough, but did I think to scale it back so it wouldn't bust out of the pan? No I did not. Doh. Actually it didn't exactly bust out, because a pullman pan has a lid, but it wanted to. At the end of the 50-minute proof it was already touching the lid (which had been oiled and floured, thank goodness). By the end of the 12-hour bake (no, that's not a typo) it took some doing to get the lid off, my nice diamond scoring was obliterated, and the crust looked like it was in need of a serious dose of antibiotic.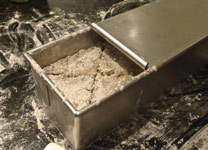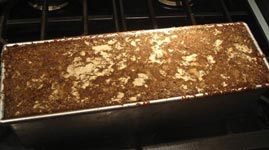 Now about the underbaking: The bread is supposed to bake for 12–16 hours in a receding oven, which gives the bread its rich color and sweet flavor. Because all ovens are different, each will have its own parameters for optimal temperature and time. I followed Hamelman's suggestion for a starting point, which was to bake at 350F for an hour, turn the oven down to 275F for another hour, and then turn the oven off. At the end of 12 hours (total) the oven was pretty much cold. Next time I'll start a bit higher, keep the oven on longer, and keep the baking stone in the oven for better heat retention; we'll see how that works.
Wish me luck on my next attempt. When I get it closer to right, I'll post more photos and a better description of the process. I'm not ever going to post the recipe proper, so if you're thinking about trying this bread, just get the book. You should have it if you're a bread baker, period. And before you make this pumpernickel, you need to read the charming story of how Hamelman learned it from the German minister Horst Bandel. So just get the book. The recipe is on page 222.