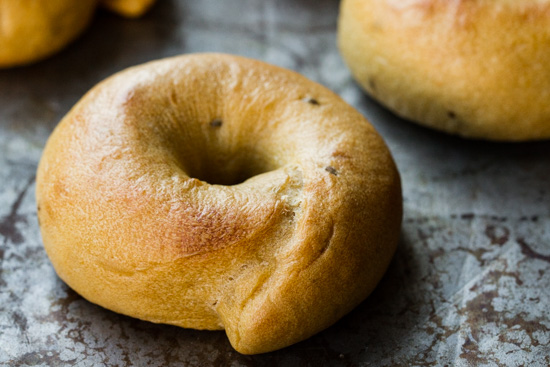 Here's a nod to pumpkin season, but not the ubiquitous "pumpkin spice." The large proportion of pumpkin yields a bagel that is compact and chewy, but not hard or dry. If you're not an anise fan, or prefer something more savory, caraway or cumin seeds could be interesting.
I think most people believe bagels are difficult to make, but they're not. They do require a lot of mixing to achieve a high degree of gluten development, though, so a stand mixer is helpful. That's even more true with these particular bagels, because the pumpkin should be evenly incorporated in the dough, and that will be challenging if you're mixing by hand. But it's not impossible; just plan to spend at least 30 minutes giving your arms a workout!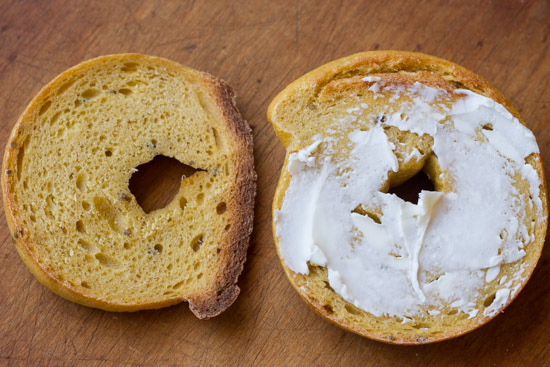 Pumpkin Anise Sourdough Bagels
Yield: 12 bagels
Time:
Mix: 10 minutes (longer if mixing by hand)
Rest, divide and shape: 35 minutes
Proof: about 2 hours at room temperature, plus overnight in the refrigerator
Boil: 10 minutes
Bake: about 28 minutes
Ingredients:
412 grams flour
177 grams canned pumpkin
58 grams cold water
10 grams (2.5 teaspoons) light brown sugar
12 grams (2 teaspoons) salt
3 grams (1 teaspoon) anise seeds
354 grams active 100%-hydration sourdough starter
semolina for dusting baking sheet
1 tablespoon baking soda for boiling
Method:
Combine the flour, pumpkin, water, brown sugar, salt, anise seeds, and starter in the bowl of a stand mixer. Mix on low speed to combine. The dough will start out seeming very dry but will get more supple with continued mixing.
Mix on medium-low speed until the dough is very smooth and strong. How long this takes will depend upon your mixer.
Turn the dough out onto an unfloured counter and work a few turns by hand. Form the dough into a smooth ball; the surface should feel satiny and tight.
Cover the dough loosely with a towel and let it rest for 10 minutes.
Divide the dough into 12 pieces of about 85 grams each. Flatten each piece (they will be approximately 2 inches in diameter) and roll tightly into a cylinder (don't continue rolling to extend the cylinder's length at this point). Cover with a towel and let rest for 10 minutes.
Meanwhile, line a baking sheet with parchment paper and dust it very generously with semolina. Alternatively, I recommend reusable parchment, with no need for the semolina.
To shape each bagel, roll the dough to extend each cylinder to about 8  inches long, without tapering the ends. Wrap the dough around your hand, with the ends overlapping by an inch or two in your palm. Roll your palm on the (still unfloured) counter to smash the ends together.
Place the bagels on the prepared baking sheet, and slip into a large food-grade plastic bag or cover with plastic wrap. Proof for about 2 hours at warm room temperature (longer if your room is cooler), until the bagels look and feel a bit puffy. Then refrigerate them overnight.
Meanwhile, preheat the oven to 450F and put a large pot of water on to boil.
When the water is almost boiling, place a cooling rack on the counter with a dishtowel underneath it. Remove the bagels from the refrigerator, brush the semolina off their bottoms, and place them on the cooling rack.
When the water has reached a rolling boil, add the baking soda. Drop the bagels, three or four at a time, into the vigorously boiling water for 20 seconds, or until they float (whichever is longer). If they float right away so the tops are not submerged initially, flip them over about halfway through the boil.
Remove the bagels from the water to the cooling rack with a slotted spatula. Let them drain for about 30 seconds before replacing them back onto the semolina-dusted, parchment-lined baking sheet.
Turn the oven down to 425F once the bagels are in. Bake until golden brown, about 28 minutes. About halfway through baking, open the oven door briefly to vent any steam.
Cool on a wire rack.