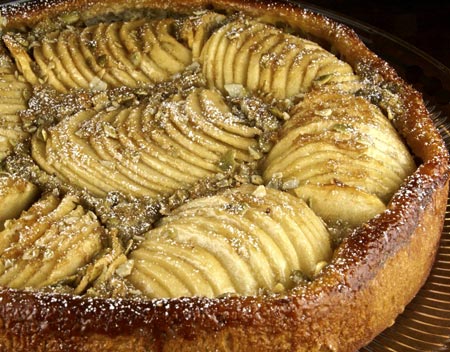 Bon Appétit has invited food bloggers (including me, wow!) to participate in their Blog Envy Bake-Off, which features a lineup of holiday treats, mostly gorgeous and mostly from people who know how to bake dessert. Now, we know I don't do a lot in the way of desserts, but an invitation from Bon Appétit cannot be taken lightly. There are, however, certain requirements to consider.
Bon Appétit's requirement:
Must be a holiday dessert.
My requirements:
Must have yeast (either that or change my name to Wild Chemical Leavening).
Must have fruit (hello, is it dessert without fruit?).
Must be a dough I love (so when I screw up the first pass on the tart — did I mention I don't do desserts? — I don't mind mixing the dough again).
Must be rustic (the culinary equivalent of "it's not a bug, it's a feature").
This tart, made with a soft spiced pumpkin brioche crust, pumpkin seed (pepita) cream, and sweet-tart fall apples, fits the requirements, but is it worthy? I'll leave that up to you. If you think so, I'd love it if you would vote for it here.
Note that the pumpkin brioche dough and pepita cream recipes make more than what you need for the tart. I used the extra of both to make cinnamon rolls — coming soon!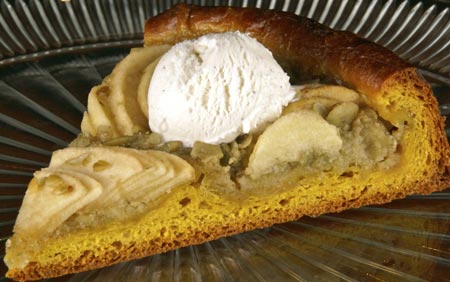 Pumpkin Brioche Apple Tart
Yield: one 9-inch tart
Time:
Mix pumpkin brioche: about 15 minutes
First fermentation, 1 hour, plus overnight in the refrigerator
Prepare pepita cream: 10 minutes (can be prepared in advance)
Shape: 10 minutes
Proof: 1.5 – 2 hours
Assemble: 10 minutes
Bake: about one hour
Ingredients:
300 g pumpkin brioche dough (recipe follows) that has been fermented overnight, shaped into a ball, and chilled
one egg, beaten with a fork
1/2 cup pepita cream, at room temperature (recipe follows)
4 firm, sweet-tart apples (I used Cameo)
one lemon wedge
28 g (2 T.) unsalted butter, melted
50 g (1/4 c.) brown sugar
25 g coarsely chopped toasted pumpkin seeds
1 T. apple jelly
powdered sugar for dusting
Method:
On a floured surface, roll the chilled dough ball into a circle 10 inches in diameter.
Place the dough into a well-buttered 9-inch springform pan. The dough will come slightly up the side of the pan.

Brush the dough lightly and evenly with egg.
Slip the pan into a plastic bag or cover with plastic wrap. Proof in a warm place (about 80F, or place a bowl of warm water in the bag) for 1.5 – 2 hours, until the dough feels light and has risen by about 75%. (Because the crust starts out quite thin, 75% risen is still pretty thin.)
Meanwhile, prepare the pepita cream. If it has been made ahead, remove it from the refrigerator to soften.
Also meanwhile, center a baking rack in the oven and preheat it to 350F.
When the brioche has almost fully proofed, peel, halve, and core the apples, and rub the halves with lemon. Slice each apple half thinly but keep each sliced half together.
Using an offset spatula, spread the pepita cream over the crust dough. Go slowly and lightly, being gentle with the dough.

Arrange the sliced apple halves over the pepita cream, fanning the slices out slightly but keeping each half together as a unit. You may not need all eight halves.
Brush the edge of the crust lightly with egg.
Brush the tops of the apples with melted butter and sprinkle with brown sugar. Sprinkle chopped pumpkin seeds over the tart.

Bake the tart until the apples are tender, about one hour .
Cool in the pan for 10 minutes, then remove to a wire rack.
Heat the apple jelly to liquid consistency and brush it over the still-warm tart.
Serve slightly warm or at room temperature, dusted with powdered sugar, and with ice cream or not.
Yield: about 1800 g
Note: this is a lot more dough than is needed for one tart (300 g). Feel free to scale the recipe down. Or make the whole batch and bake it in other ways (see, for example, the shaping for this butternut brioche, and stay tuned for pumpkin cinnamon rolls). Or just make six tarts and use them to buy love.
Time:
Mix dough: about 15 minutes
First fermentation: 1 hour at room temperature, then overnight in the refrigerator
Divide and preshape: 10 minutes
Chill: 20 minutes
Shape: varies
Proof: 1.5 – 2.5 hours
Bake: varies
Ingredients:
768 g flour
40 g (about 2) egg yolks, cold
100 g (about 2) whole eggs, cold
425 g (one can) pumpkin puree (not pumpkin pie mix)
14 g ( 4.5 t.) instant yeast
14 g (2-1/3 t.) salt
2 g (3/4 t.) ground cinnamon
2 g (3/4 t.) ground ginger
1 g (1/2 t.) ground nutmeg
1 g (1/2 t.) ground cardamom
154 g sugar
307 g unsalted butter, at room temperature
Method:
Place flour, eggs, pumpkin, yeast, salt, and spices in the bowl of a stand mixer. Mix at low speed for about 4 minutes. It is normal for the dough to be quite stiff at this point.
With the mixer in medium speed, add the sugar very slowly, in 3 or 4 increments. Mix for about 2 minutes following each addition. (If you add the sugar too quickly, mixing will take longer.)
Continue to mix in medium speed until the gluten reaches full development, i.e., you can stretch a paper thin, translucent "windowpane" from the dough.
Turn the mixer back to low speed and add the butter all at once. Mix for a minute in low speed, then turn the mixer to medium speed and mix until the butter is completely incorporated. You should now have a dough that is very soft and satiny, quite extensible (stretchy) but also strong and elastic (springs back after being stretched)
Transfer the dough to a covered, buttered container and ferment at room temperature for one hour.
Press the dough to degas it and refrigerate it overnight (8 – 12 hours).
Divide the and preshape the dough into the sizes and shapes you will need for your final product. (For the tart above, 300 g, preshaped into a ball. For small rolls, 50 g, also balls. For eight cinnamon rolls, 750 g, rolled into an approximately 8 x 10-inch rectangle.)
Space the preshaped dough on a parchment-lined baking sheet and slip the sheet into a plastic bag or cover with plastic wrap.
Refrigerate at least 20 minutes to re-chill thoroughly.
The dough is now ready to be shaped, proofed, and baked.
Yield: 3/4 cup (1/2 cup is needed for the tart)
Time:
Mix: 10 minutes
Refrigerate: up to 2 days (optional)
Bring to room temperature: about an hour
Ingredients:
56 g toasted pepitas (pumpkin seeds)
56 g fine granulated sugar
18 g flour
1.5 g (1/4 t.)salt
56 g unsalted butter, at room temperature
25 g egg (this is about half an egg; use the other half to egg-wash the tart)
2 g (1/2 t.) vanilla extract
Method:
Place pepitas, sugar, flour, and salt into the bowl of a food processor. Pulse a few times, then process until the pepitas are very finely ground.
In a bowl, cream the butter with a hand mixer until fluffy.
Add the egg, vanilla, and a tablespoon or so of the pepita mixture, and beat until the egg is incorporated.
Add the remaining pepita mixture and mix until just incorporated.
Refrigerate for up to two days. Bring to room temperature before using.