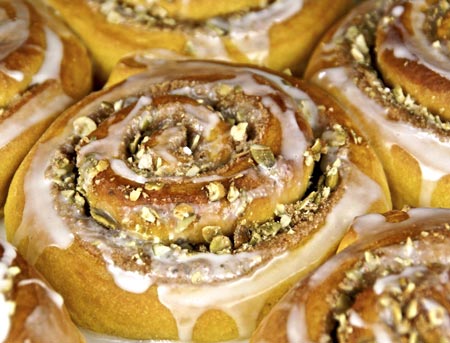 This post was originally published on November 19, 2009. May I recommend these for Thanksgiving breakfast?
I like these pumpkin cinnamon rolls a lot.
In case it seems like I'm damning them with faint praise, consider that I've spent the past two weeks in class redefining my relationship with butter. Brioche à tête. Brioche sucrée. More brioche à tête. Cinnamon rolls. Sticky buns. Brioche tarts. Brioche tartlets. Brioche coffee cake. Strawberry brioche. Gibassier. Stollen. Panettone. Pan d'oro. And let's not forget croissants 521 ways.
They're delicious, they're beautiful, they're fun to make, every one of them. So I truly mean no disrespect when I say Stop! I'm supersaturated! Quick, someone give me a lima bean (and if you know me, you'll recognize a truly desperate plea here.)
But back to the rolls. I made them at home, the weekend before we started this descent into the sweet, rich, yeasty madness known as the Viennoiserie unit. I guess I thought… well, clearly I was unencumbered by the thought process, as Click and Clack would say.
But I can I still say like these rolls, and right now, that's saying a lot. Maybe you'll like them too.
Pumpkin Brioche Cinnamon Rolls
Yield: 8 rolls
Time:
Mix pumpkin brioche: about 15 minutes
First fermentation, 1 hour, plus overnight (8 – 12 hours) in the refrigerator
Prepare pepita cream: 10 minutes (can be prepared in advance)
Shape: 15 minutes
Proof: about 1 hour 45 minutes
Bake: 20 minutes
Cool and ice: 10 minutes
Ingredients:
750 g pumpkin brioche dough (recipe follows) that has been fermented overnight, rolled into an 8 x 10-inch rectangle, and chilled
1/4 cup pepita cream, at room temperature (optional; recipe follows)
44 g granulated sugar
44 g brown sugar
1 t. ground cinnamon
85 g toasted pumpkin seeds
120 g powdered sugar, sifted
about 2 T. warm milk
Method:
In a small bowl, combine the granulated sugar, brown sugar, and cinnamon.
In a food processor, pulse the pumpkin seeds a few times until about half are finely chopped (the rest will be coarsely chopped).
On a lightly-floured counter, roll the chilled pumpkin brioche dough into a rectangle 11 inches long and 16 inches wide.
Smear the entire surface of the dough with pepita cream in a very thin layer, leaving a 1-inch margin along one short edge of the dough. Brush the margin with water. (Alternatively, omit the pepita cream and brush the entire dough rectangle with water.)
Sprinkle the pepita cream evenly with cinnamon sugar mixture, then chopped pumpkin seeds, maintaining the 1-inch margin.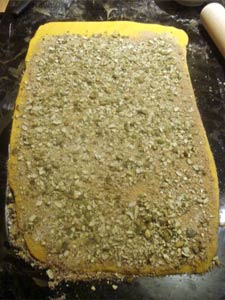 Starting at the edge opposite the sugar-free margin, roll the dough into a log.
Cut the roll into 8 rounds and space them 2 inches apart on a parchment-lined baking sheet.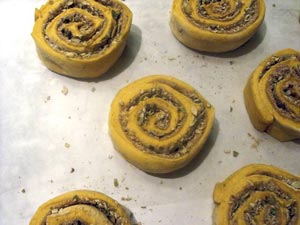 Cover and proof for about 1 hour and 45 minutes at room temperature, until the indentation left by a fingertip springs back very slowly.
Meanwhile, place a rack in the center of the oven and preheat it to 380F.
Bake for about 20 minutes, until the rolls are golden brown.
Slide the rolls, still on their parchment, onto a cooling rack.
To make the icing, whisk warm milk into powdered sugar until just of drizzle-able consistency. Drizzle the icing over the buns while they are still warm, but not hot.
Serve the rolls while still warm, or freeze and warm before serving.
Yield: about 1800 g
Note: this is a lot more dough than is needed for 8 cinnamon rolls (750 g). The recipe can be scaled down, or use the remaining dough for a tart, or make extra rolls to feed your freezer.

Time:
Mix dough: about 15 minutes
First fermentation: 1 hour at room temperature, then overnight in the refrigerator
Divide and preshape: 10 minutes
Chill: 20 minutes
Shape: varies
Proof: 1.5 – 2.5 hours
Bake: varies
Ingredients:
768 g flour
40 g (about 2) egg yolks, cold
100 g (about 2) whole eggs, cold
425 g (one can) pumpkin puree (not pumpkin pie mix)
14 g ( 4.5 t.) instant yeast
14 g (2-1/3 t.) salt
2 g (3/4 t.) ground cinnamon
2 g (3/4 t.) ground ginger
1 g (1/2 t.) ground nutmeg
1 g (1/2 t.) ground cardamom
154 g sugar
307 g unsalted butter, at room temperature
Method:
Place flour, eggs, pumpkin, yeast, salt, and spices in the bowl of a stand mixer. Mix at low speed for about 4 minutes. It is normal for the dough to be quite stiff at this point.
With the mixer in medium speed, add the sugar very slowly, in 3 or 4 increments. Mix for about 2 minutes following each addition. (If you add the sugar too quickly, mixing will take longer.)
Continue to mix in medium speed until the gluten reaches full development, i.e., you can stretch a paper thin, translucent "windowpane" from the dough.
Turn the mixer back to low speed and add the butter all at once. Mix for a minute in low speed, then turn the mixer to medium speed and mix until the butter is completely incorporated. You should now have a dough that is very soft and satiny, quite extensible (stretchy) but also strong and elastic (springs back after being stretched)
Transfer the dough to a covered, buttered container and ferment at room temperature for one hour.
Press the dough to degas it and refrigerate it overnight (8 – 12 hours).
Divide the and preshape the dough into the sizes and shapes you will need for your final product. (For the tart above, 300 g, preshaped into a ball. For small rolls, 50 g, also balls. For eight cinnamon rolls, 750 g, rolled into an approximately 8 x 10-inch rectangle.)
Space the preshaped dough on a parchment-lined baking sheet and slip the sheet into a plastic bag or cover with plastic wrap.
Refrigerate at least 20 minutes to re-chill thoroughly.
The dough is now ready to be shaped, proofed, and baked.
Yield: 3/4 cup (1/4 cup is needed for 8 cinnamon rolls)
Time:
Mix: 10 minutes
Refrigerate: up to 2 days (optional)
Bring to room temperature: about an hour
Ingredients:
56 g toasted pepitas (pumpkin seeds)
56 g fine granulated sugar
18 g flour
1.5 g (1/4 t.)salt
56 g unsalted butter, at room temperature
25 g egg (this is about half an egg; use the other half to egg-wash the tart)
2 g (1/2 t.) vanilla extract
Method:
Place pepitas, sugar, flour, and salt into the bowl of a food processor. Pulse a few times, then process until the pepitas are very finely ground.
In a bowl, cream the butter with a hand mixer until fluffy.
Add the egg, vanilla, and a tablespoon or so of the pepita mixture, and beat until the egg is incorporated.
Add the remaining pepita mixture and mix until just incorporated.
Refrigerate for up to two days. Bring to room temperature before using.