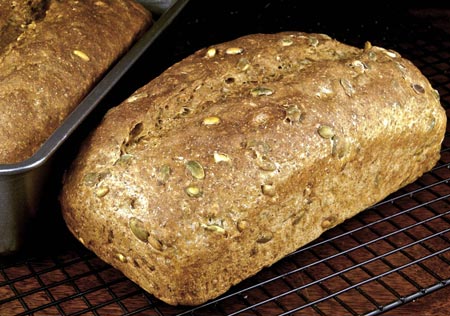 On the day of my very first marathon team training back in June, I sprained my ankle. Not at the training, but later that afternoon, in my driveway. This is what I get for not wearing entirely sensible shoes.
Luckily, it was not a severe sprain, and I was able to resume training in a couple of days. That evening, however, walking was difficult. We had a plan to meet friends for dinner in Oakland, and when we got there my husband needed to go in search of an ATM. Not wanting to do all that walking, I parked myself in Diesel Bookstore on College Avenue. More specifically, I parked myself in the cookbook section and limited my browsing to the single shelf I could reach without moving around.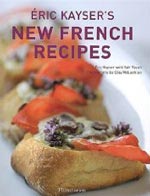 But don't think I'm saying I wouldn't have chosen Éric Kayser's New French Recipes as my book (it is not possible for me to exit a bookstore without a book) if my mobility had been greater and my options less restricted. This is a lushly-photographed volume of beautiful, fresh, mostly accessible dishes.  Kayser is a renowned French baker and, while not all of the recipes are for baked things, they largely feature whole grains, seeds, dried fruits, nuts, and breads in prominent roles.
This pumpkin seed bread is soft, although it contains 67% whole-grain flour, because it also has a fair amount of butter — very nice for sandwiches and toast. I modified Kayser's recipe to use instant yeast plus a small amount (because that's all I had on hand at the time) of sourdough starter. The original recipe calls for a 30-minute first fermentation at room temperature, but my schedule wasn't down with that, so I put it directly into the fridge for 2.5 hours instead (it could have been anywhere between an hour and overnight).
Be aware that the dough is very wet and messy at first. This is not a mistake. After mixing by hand for about 10 minutes, it should become considerably more smooth and elastic. Stick with it. Don't even worry if you can't shape it into loaves. The photographs in the book show the dough pretty much just glopped into the pans. I used 9 x 5-inch pans. For taller loaves, try 8 x 4.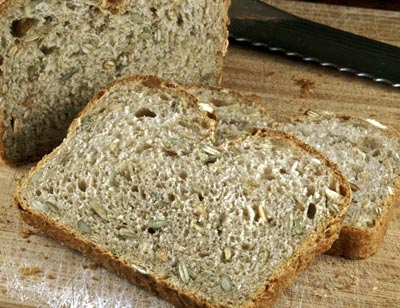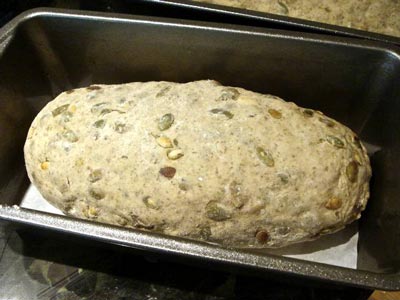 Pumpkin Seed Bread
Yield: 2 loaves
Time:
Toast and cool pumpkin seeds: 20 minutes
Mix: 15 minutes
First fermentation : 2.5 hours in the refrigerator (or about 30 minutes at room temperature)
Divide and shape:  5 minutes
Proof: 1 hour 50 minutes
Bake: 45 minutes
Ingredients:
330 g pumpkin seeds
175 g flour
250 g whole wheat flour (I used white whole wheat)
250 g coarsely ground whole rye flour (I used King Arthur Pumpernickel)
15 g sugar
8 g instant yeast
15 g salt
150 g mature 100%-hydration sourdough starter
100 g unsalted butter, cut into half-inch pieces and softened
525 g water
Method:
In a dry skillet over medium-high heat, toast the pumpkin seeds, stirring constantly, until they start to pop. Remove the seeds to a plate and allow them to cool completely.
Combine all of the ingredients except pumpkin seeds in a bowl. Mix roughly by hand.
Turn the dough out onto an unfloured counter and continue mixing (kneading) by hand for about 10 minutes, until you have a low-medium level of gluten development.
Mix in the pumpkin seeds just until they are evenly distributed throughout the dough.
Transfer the dough to a lightly oiled container. Cover and refrigerate for 2.5 hours, at the end of which time the dough should have about doubled in volume.
Lightly oil two loaf pans and line the bottoms with parchment paper.
Turn the dough into a lightly floured counter. Divide it in half, shape it into logs, and place it in the pans.
Proof, covered, for about an hour and 50 minutes, until the loaves have risen above the tops of the pans and a finger indentation springs back very slowly.
Meanwhile, preheat the oven to 375F. You will also need steam during the initial phase of baking, so prepare for this now.
Just before baking, slash the loaves down their long axes, with the blade held perpendicular to the dough.
Bake for 8 minutes with steam, and another 37 minutes or so without steam.
Remove the loaves from the pans and cool on a wire rack.