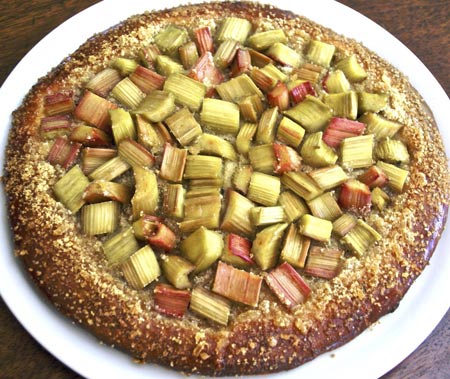 Those of us who work in family planning have an aphorism: Hope is not a method. That is excellent advice when it comes to birth control, and it applies pretty well to baking too. Think things through, have a plan, protect yourself from unintended consequences.
For example, one thing you might think about, if you have some yeast that's sat in the refrigerator for a while, is to check the expiration date before blithely throwing it into some brioche dough that you plan to use for a rhubarb tart. This could go a long way towards protecting yourself from the unintended consequence of unrisen dough.
Sometimes, though, things just happen. You get caught up in the heat of the moment, in the passion and excitement and anticipation of that perfect … brioche, and your careful plan is suddenly miles from your consciousness, and before you know it … well now, wasn't that a big "Oops!"
When that sinking feeling hits after a romantic evening, Plan B might help. But for those baking moments when something makes its way into someplace you really wish it hadn't, sometimes all you can do is hope.
You can hope that that past-its-prime yeast has even just a little brio left for your brioche, just enough to give the tiniest lift to the lovely yellow dough. You can hope that that dough will bake into a tender, soft, cookie-like crust that is exactly the thing you didn't know you wanted underneath your beautiful fresh rhubarb cradled by almond-ginger filling inspired by La Tartine Gourmande. If you're feeling particularly bold, you might even dare to hope that you end up with a dessert that is not merely acceptable but quite good if you do say so yourself. You just keep your fingers crossed all the way around.
So I got lucky this time. But remember, luck can run out at any time. Really, hope is not a method. Please practice safer baking.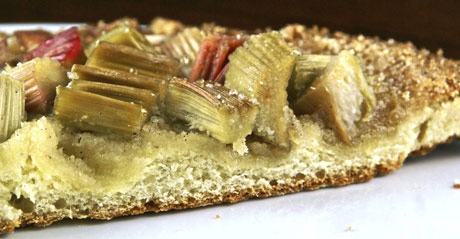 Rhubarb Tart with Barely-Perceptibly Risen But Still Good Brioche Crust
Yield: one 11-inch tart
Ingredients:
300 g brioche dough, prepared with expired, barely-active SAF Gold yeast
380 g fresh rhubarb, cut into half-inch chunks
1/3 c. + 1/4 c. fine granulated sugar
1/2 c. almond flour (ground almonds)
2 T. finely diced crystallized ginger
seeds scraped from half a vanilla bean
2 T. + 1 T. coarse granulated brown sugar
one lightly-beaten egg for washing
Method:
Mix and ferment a 300-gram ball of brioche dough overnight. Make sure your yeast is old and tired.
An hour before you will roll out the brioche crust, toss the rhubarb chunks with 1/3 cup of fine sugar. Place in a colander over a bowl and let it rest and drain for a total of about 3 hours (so it will be ready when the crust has finished (not) rising).
On a lightly-floured counter, roll the cold dough out into an 11-inch circle. Transfer it to a parchment-lined baking sheet. Brush it lightly with egg.
Cover the dough and let it proof for 2 hours at about 80F. It should not look risen and will feel minimally puffy.
Meanwhile, preheat the oven to 400F, with a rack in the center.
Toss the almond flour, vanilla bean seeds, crystallized ginger, and 2 T. of the brown sugar together in a bowl. Mound the mixture in the center of the crust, leaving about a one-inch border.
Toss the dry rhubarb with the remaining 1/4 cup fine sugar. Press the rhubarb chunks into the crust filling in a single layer, crowding them as close together as you can.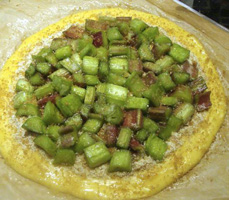 Brush the unfilled crust rim again lightly with egg, and sprinkle the entire tart, including crust, with the remaining 1 T. brown sugar.
Once the tart is in the oven, turn the heat down to 380F. Bake for about 30 minutes, until the rhubarb is soft and starts to release its juice. Cover the crust edge with foil or a pie crust shield for the last 10 minutes if it is getting too dark.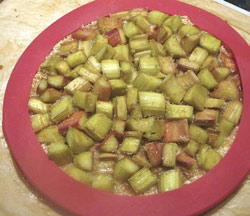 Cool on a wire rack.