Just to be clear, this is not what is referred to as a water bagel.
This is what happened when I added approximately 50% more water than I should have to the final dough of some sourdough bagels. Unlike another bread I made in the same week, where the overwatering was deliberate if misguided, this was pure accident.
What to do? Add 50% more of all the other ingredients to preserve the dough's bagel identity? Not an option, since I had neither more sourdough starter nor high-gluten flour on hand. Toss the dough? Perish the thought!
There was only one option left that I could see: process and bake the dough as if it were ciabatta. That is, I folded it several times during the bulk fermentation to get the strength that is difficult to achieve in a mixer when the dough is so wet. (Of course I was helped here by the high-gluten flour and the sourdough as well.) Then I used my usual ciabatta technique to cut the dough into roll-sized rectangles and proof it in a very-liberally-floured couche.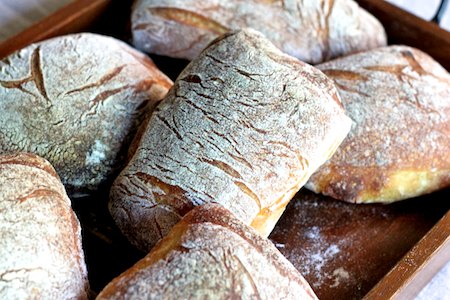 It's not something I would make again on purpose (high-gluten flour is not ideal for ciabatta), but the rolls made very serviceable vehicles for cream cheese and smoked salmon.
This is not the first time I've had to rescue a deluged dough. Maybe you're a better person than I, and never make this kind of mistake. But if you do, then, with apologies to Emily Dickinson, "I advise you if you don't know how to make the staff of life [from soup] to learn with dispatch."