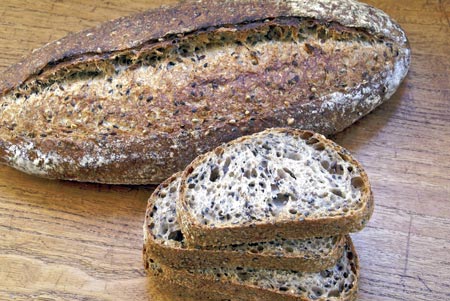 This is a bread we made in class (way back in the halcyon bread days, before butter and sugar commandeered my educational life).
I modified the formula to use liquid instead of stiff levain. I removed the small amount of instant yeast, and increased the fermentation and proof times accordingly. I used a different seed mixture and slightly increased the amount of whole grain flour. I added an autolyse (rest period after fours are mixed with water and starter).
So is this the same bread we made in class? Here I turn to G. W. F. Hegel, who said, "Identity is the identity of identity and non-identity." That clears things up nicely, doesn't it?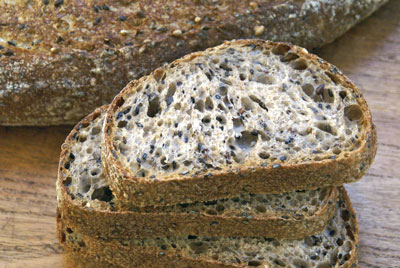 Seeded Multigrain Sourdough
Yield: 1000 g (2 loaves)
Time:
Soak soaker: 30 minutes
Mix final dough: 40 minutes (includes a 30-minute autolyse)
First fermentation : 2.5 hours with folds at 50 and 100 minutes
Preshape, rest, and shape: 35 minutes
Proof: 2 – 2.5 hours
Bake: 40 minutes
Desired dough temperature: 75F
Soaker Ingredients:
100 g mixed seeds (I used 40 g black sesame, 30 g flax, and 30 g hemp)
35 g rolled oats (not instant)
86 g water
Final Dough Ingredients:
240 g flour
94 g whole wheat flour
41 g coarsely-ground whole rye flour
227 g water
170 g mature 100%-hydration sourdough starter
9.5 g (1.5 t.) salt
All of the soaker
Method:
In a bowl, combine the soaker ingredients. Cover and let rest for about 30 minutes.
Meanwhile, in the bowl of a stand mixer fitted with a dough hook, combine the final dough flours, water, and starter. Mix on low speed until combined into a shaggy mass. Cover and let rest for 30 minutes.
Add the salt and mix on low speed. Add a little water if needed to achieve a medium-soft dough. Continue mixing on low or medium speed to a medium level of gluten development.
Add the soaker and mix on low speed until the soaker is evenly incorporated into the dough.
Transfer the dough to a lightly oiled container. Cover and ferment for 2.5 hours, with folds after the first 50 and 100 minutes.
Turn the dough into a lightly floured counter. Divide into two pieces. Preshape each piece into a ball and let rest, covered, for 30 minutes.
Shape the dough into batards and placethem, seam-side-up, in a floured couch or linen-lined baskets.
Proof, covered, for about 2 – 2.5 hours, until the indentation left by a fingertip springs back very slowly.
Meanwhile, preheat the oven, with baking stone, to 475F. You will also need steam during the initial phase of baking, so prepare for this now.
Just before baking, make a single slash down the long axis of each loaf. Slashing slightly off-center will make the "ear" end up in the center of the loaf once the slash opens up.
Once the loaves are in the oven, reduce the temperature to 450F. Bake for 8 minutes with steam, and another 20 minutes or so without steam. Then turn off the oven and leave the loaves in for another 10 minutes, with the door ajar.
Cool on a wire rack.