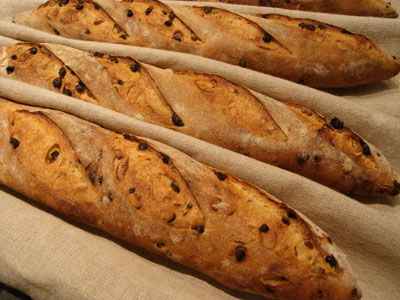 When it comes to baking, I would make a terrific Boy Scout. I just do not like to be caught unprepared. 50-pound bag of flour? Check. At least 10 pounds of high-extraction flour in the refrigerator at all times? Of course. Five-year supply of panettone molds? Just got those in.
In other words, I stock up.
This is not about buying in bulk to save money, although that's always nice. This is more like, I'm notoriously bad at planning ahead, so I plan way ahead. If that makes any sense at all.
How uncharacteristic of me, then, to allow my supply of dried currants to run low. But how truly characteristic of me to discover this right when it is time to add them to the dough. Let's just say that mise en place is a concept that is not fully en place in this kitchen.
All of this is by way of explaining how pine nuts found their way into this heretofore nutless bread. I needed a replacement for a few lacking currants, and it seemed like pine nuts would fit in. In fact, they fit in so well that I'm giving them a permanent berth on the recipe's ingredient list.
This bread has no sugar, but the fennel and currants lend a sweetness that makes this delicious for breakfast or after dinner. If you don't want pine nuts (but I really think you do), add more currants to make up their weight. Or just omit them outright. Or replace some or all of the currants with more nuts. It's all good.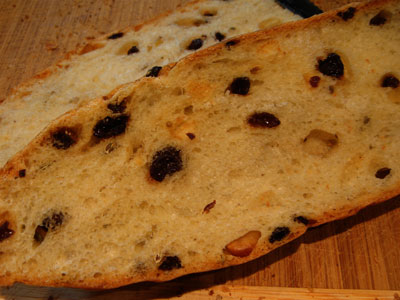 Semolina Bread with Fennel, Currants & Pine Nuts
Yield: 1100 g (4 short baguettes)
Time:
Mix: 15 minutes
First fermentation: 1.5 hours
Divide/rest/shape: 30 minutes
Proof: 1.25 hours
Bake: 35 minutes
Desired dough temperature: 76F
Ingredients:
220 g flour
220 g semolina
246 g water
3.5 g (1 1/8 t.) instant yeast
11 g (1 3/4t.) salt
193 g ripe 100%-hydration sourdough starter
22 g olive oil
9 g (5 t.) whole fennel seeds
110 g dried currants
70 g pine nuts
Method:
Combine the flour, semolina, water, salt, yeast, starter, and olive oil in the bowl of a stand mixer. Mix on low speed until just combined, about 4 – 5 minutes. Adjust the water to achieve a medium dough consistency, similar to a regular French bread dough.
Mix on medium speed until the gluten has reached a medium level of development. This may take about 4 minutes, but will depend on your mixer.
Add the fennel, currants and pine nuts and mix in low speed until just combined.
Transfer the dough to a covered, lightly oiled container. Ferment at room temperature (72F – 76F) for 1.5 hours.
Turn the dough onto a lightly floured counter and divide it into 4 pieces of about 260 g each. Preshape* each piece into a short cylinder, sprinkle lightly with flour, cover with a towel, and let them rest for 20 minutes.
Shape* the dough into short baguettes (about 12 inches long) with pointed ends. Place them seam-side-up in a floured couche.

Slip the couche into a large plastic bag and proof at room temperature until the diameter of the baguettes has increased by approximately 50%, about 1 hour and 15 minutes.
Meanwhile, preheat the oven, with baking stone, to 460F. You will also need steam during the initial phase of baking, so prepare for this now.
Before baking, slash each loaf four times with overlapping cuts that are nearly parallel to the long axis of the loaf.
Once the loaves are in the oven, turn the temperature down to 440F. Bake with steam for 8 minutes, then another 17 minutes or so without steam. The loaves should be a medium golden brown. Leave the oven door cracked open a bit during the last 5 minutes of the baking time to help the loaves dry out. Then turn the oven off and leave the loaves inside, with the door ajar, for another 5 – 10 minutes.
Place the loaves on a wire rack to cool.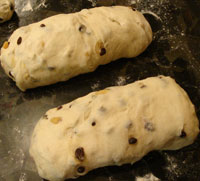 *A note about the shaping: I preshape into cylinders by flattening each piece of dough into a square, degassing gently. Then I fold the square into thirds like a letter, ending up with the seam on the bottom. After a bench rest, when it's time to shape the baguette, I flip the cylinder over so that seam is up and degas gently again before starting to shape.
If you're not familiar with how to shape a baguette, there are good written instructions at A Year in Bread. A slightly different technique is demonstrated by Danielle Forestier in this Julia Child video. (In the demo she only takes the dough to the thickness of a batard; a baguette would be further rolled out to a thinner diameter.)