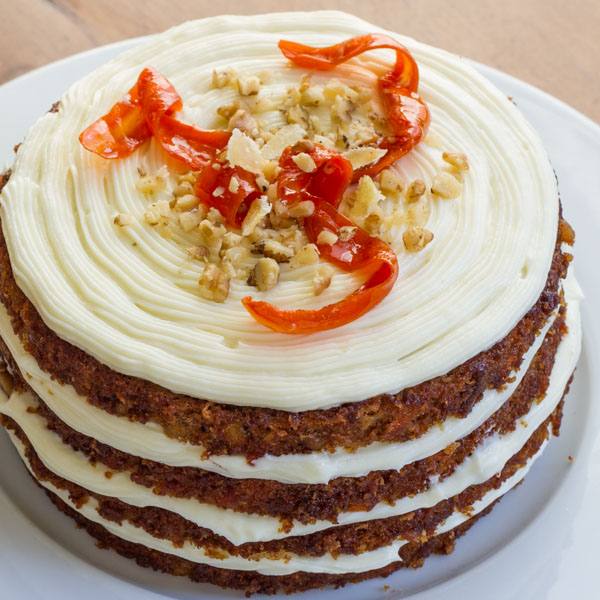 Although carrot cake has been around for centuries, I think of it as the 1970s' attempt to rationalize dessert.
Come on… it's dessert! Putting carrots into your cake doesn't make it any better for you than, say, putting sourdough into it. Together they make a pretty good cake, though. And a nice way to use leftover sourdough starter.
(And if you really want a healthful cake, you can substitute collard greens for carrots, spirulina powder for sugar, and fish oil for vegetable oil. There. Don't say I never do anything for you.)
Recipe notes:
The recipe is adapted from SFBI's (non-sourdough) carrot cake.
The starter can be a little past its peak.
This recipe makes a 6-inch cake, good for eight to ten people. For an 8-inch cake, double the amount of all ingredients.
The cake layers are thin, so the icing-to-cake ratio is quite high. If you're not a big icing fan, leave the cake as two layers rather than dividing it into four.
Make sure the cream cheese is very soft, to ensure a smooth icing. I leave it out at room temperature overnight.
For melting the butter and chocolate, I use a small stainless steel bowl in the microwave. Yes, you can put a round metal bowl in the microwave. Really!
Piping rather than spreading the icing can be an interesting change of pace. I used a Wilton #32 star tip for this small cake.
Sourdough Carrot-Ginger Cake
Yield: One 6-inch, 4-layer cake
Time:
Mix: 15 minutes
Bake: 30 minutes
Cool: 2 hours
Prepare carrot curls: 15 minutes
Assemble: 20 minutes
Cake Ingredients:
36 grams flour
2 grams (3/4 teaspoon) cinnamon
1 gram (1/6 teaspoon) salt
4 grams (7/8 teaspoon) baking soda
126 grams mature 100%-hydration sourdough starter
54 grams (one large) egg
62 grams olive oil
140 plus 20 grams sugar
6 grams (1.5 teaspoons) vanilla extract
40 grams candied (not crystallized) ginger
27 grams unsweetened shredded coconut
84 grams drained crushed pineapple
93 grams grated carrot
42 grams chopped walnuts, toasted
Icing Ingredients:

404 grams cream cheese at room temperature (soft)
44 grams unsalted butter
65 grams white chocolate
44 grams plain Greek yogurt or sour cream
207 grams sifted powdered sugar
Garnish:

1 carrot
1/4 cup maple syrup
1 tablespoon finely chopped walnuts
A few thin slices of candied ginger
Method for the cake:
Preheat the oven to 325F on the convection setting, if you have one. Otherwise preheat to 350F on the regular bake setting.
Butter two 6-inch cake pans. Line the bottoms of the pans with parchment paper and butter the parchment.
Sift together the flour, cinnamon, salt, and baking soda. Set aside.
Chop the candied ginger into 1/4-inch pieces. In a small food processor, process the ginger with 20 grams of sugar until the ginger is very finely chopped.
Combine the chopped ginger with the coconut, pineapple, carrot, and walnuts. Set aside.
In the bowl of a stand mixer, combine the sourdough starter, olive oil, egg, 142 grams of sugar, and vanilla extract. Mix with the paddle attachment on medium-low speed just until uniformly combined.
Add the sifted dry ingredients and continue to mix on medium-low speed until just incorporated.
Stir in the carrot mixture until evenly incorporated.
Pour the batter into the prepared pans.
Bake for about 30 minutes, until the cake is starting to pull away from the sides of the pan, and a tester comes out clean.
Cool 15 minutes in the pan, then invert the cakes onto a cooling rack. Let them cool completely before icing.
Method for the icing:
In the microwave or a double boiler, melt the butter and white chocolate together. Whisk in the yogurt or sour cream until smooth.
Using the paddle attachment of a stand mixer, mix the cream cheese on medium speed until it is perfectly smooth.
Add the sifted powdered sugar and continue to mix on medium speed until very smooth.
Add the butter mixture and mix until smooth.
Method for maple-candied carrot curls (garnish):
Using a vegetable peeler or mandoline, cut several thin, wide carrot strips.
Heat the maple syrup to boiling in a very small saucepan. Add the carrot strips. Simmer for about ten minutes, until the carrots are limp and the syrup has thickened.
Remove the carrots to a wire rack to cool. When cool enough to handle, wrap them around your finger to curl. Choose the best few to add to the top of the cake
Cake assembly:
Using a long serrated knife, cut each cake horizontally into two layers.
Assemble the layers cut-side-down, with icing between them.
Pipe or spread icing onto the top of the cake. Garnish with carrot curls, finely chopped walnuts, and sliced ginger.