Wish I was an English muffin
'Bout to make the most out of a toaster
— Simon and Garfunkel, "Punky's Dilemma"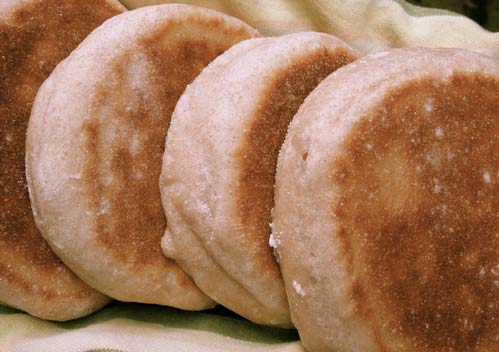 If you want to make the most out of your toaster, lose the Thomas' and grace it with these instead.
Inspired by several talented bakers at The Fresh Loaf who have produced various takes on the English muffin in recent months, I finally could stand it no longer, and had to try them for myself. I see why they have been so popular. The bang for the buck is tremendous; they could not be easier, yet the result is outstanding.
The recipe uses just the amount of starter I'm "discarding" from my evening feeding, so I don't even have to have planned ahead to make them (always a bonus in my world). Ferment the sponge overnight, and it's a simple affair in the morning to mix and cook them.
Sourdough English Muffins
Yield: 8 – 10 muffins
Time:
Mix and ferment sponge: 8 hours
Mix and shape final dough: 15 minutes
Proof: 45 minutes
Cook: 15 minutes
Sponge Ingredients:
110 g ripe 100% hydration sourdough starter
160 g flour
100 g whole wheat flour
276 g milk (I used lowfat 1%)
Final Dough Ingredients:
75 g flour
3/4 t. salt
1 t. baking soda
1.5 t. agave nectar (or honey)
all of the sponge
Method:
In a medium bowl, mix the sponge ingredients until just combined. Cover and let rest for 8 hours or overnight.
Add the final dough ingredients and mix to roughly combine. Turn the dough out onto the counter and hand mix for about 7 or 8 minutes, or until the surface becomes quite smooth. The dough will be very soft, and sticky at first. Resist the urge to add more flour; it will become less sticky with mixing.
Flour the counter and your hands well, and roll or pat the dough out to a thickness of about one-half inch. Cut the dough into 3-inch circles and place them on semolina-dusted parchment paper.
Cover and let proof for 45 – 60 minutes.
Lightly oil a griddle and heat it over medium-low heat. Cook the muffins for a total of about 7 or 8 minutes on each side, until browned and the sides are firm. I find I get a better shape to the muffins if I flip them every couple of minutes for the first few minutes.
Cool on a wire rack. To get the best nooks and crannies for toasting, split the muffins with a fork rather than a knife.