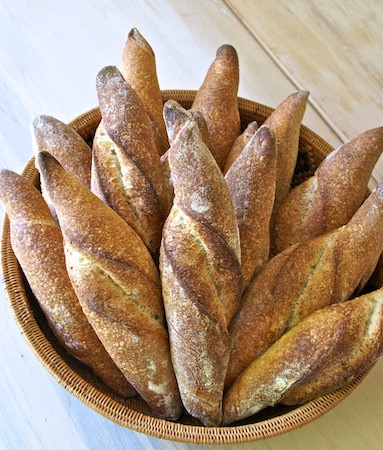 A good sturdy sourdough is fabulous on its own, but it also serves nicely if you happen to be in a twisted frame of mind. Flavor twists such as olives, roasted garlic, or herbs are easy and keep things interesting. And then there are the simple twists of shape that add even more excitement to your life. Well, they add excitement to my life. It could be that I need to get out more.
For these crusty, twisty rolls, I tossed a bit of chopped fresh rosemary into a batch of Norwich Sourdough. With this pungent herb, about two or three tablespoons (4 – 5 grams) per kilogram of dough is enough to provide a distinct rosemary  flavor without overpowering.

The twist shape (tordu, if you're feeling French) is a bit time-consuming, but this can be a good thing if, like me, you cherish hands-on time with your dough (did I mention I might need to get out more?).
This shaping technique works for larger loaves, too, and for softer breads like egg bread.
For large sourdough rolls, divide the dough into 100-gram pieces and shape them into balls. Cover and let rest for 30 minutes.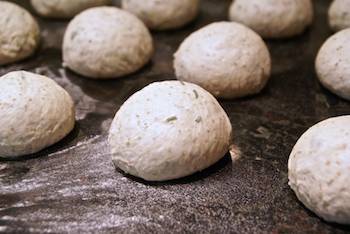 Shape each ball into a pointed log. Sprinkle the top with flour.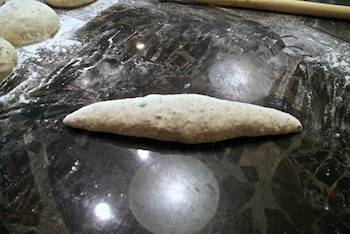 Press a dowel (or drumstick, if you have a percussionist in the family) firmly down along the long axis of the dough and roll it  back and forth a few times to create a flat "hinge" about 1.5 inches wide.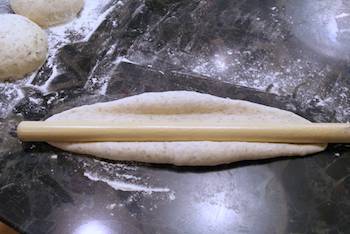 Roll the two outer edges of the dough together so they meet in the center.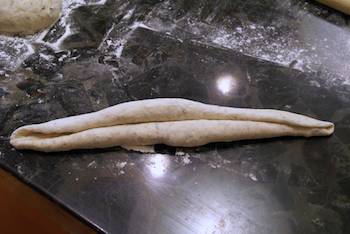 If you stopped here, it would be a fendu. But now you twist the roll…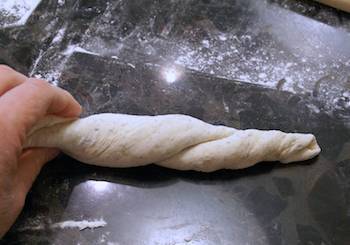 … and place it in a floured couche so the side where the "seam" traverses the center of the roll is face down.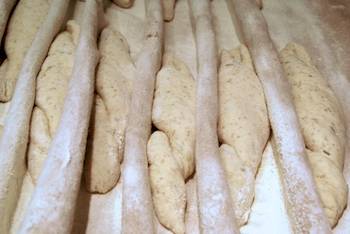 I proofed these for 2 hours at room temperature and then refrigerated them overnight. I baked them, seam side up, as for Norwich Sourdough, for a total of about 25 minutes, the last 5 of which were with the oven off and the door ajar. And as always, cool before eating for maximum flavor.
It is my pleasure to send these to Zorra (1x umrühren bitte) and Natashya (Living in the Kitchen with Puppies) for BreadBakingDay #30, Twisted Breads.