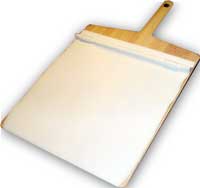 If you've been waiting for just the right time to order a Super Peel, one of my favorite tools, wait no more. As promised, Gary has a limited-time deal for Wild Yeast readers: $5 off the regular price, plus an extra cloth belt with the purchase.
That's a $52 value for $41, and shipping is included.
Enter "wild yeast" (without the quotes) into the Discount Code space on the Super Peel order form, and the discount will be automatically applied.
Go for it while you can — through tomorrow (Sunday, November 22)!