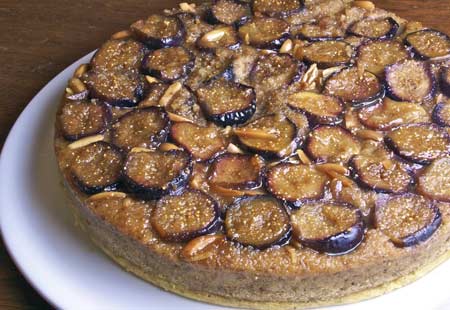 How I came to make this pudding is one of those bad news-good news kinds of deals:
Bad news: Nasty run-in with bread knife.
Good news: No stitches.
Bad news: Several days confinement in metal splint extending across palm of hand.
More bad news: Can't examine patients with this thing, so no work for me.
Good news: More time to bake.
Bad news: Can't shape bread either.
Good news: Dessert.
. . . . . .
Bad news: Daughter locks keys in car.
Good news: I am home when she calls.
Bad news: Drive 30 minutes (rush-hour traffic) with spare key.
Good news: Farmer's market in progress a block away from stranded car.
Bad news: Not much cash on me.
Good news: Figs are cheap this time of year.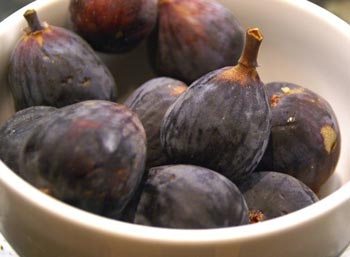 . . . . . .
Bad news: Surplus of dry crusty bread.
Good news: Bread pudding.
Bad news: Can't cut neatly through bread without risk of further injury.
Good news: Food processor.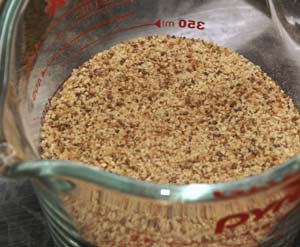 . . . . . .
Fig Upside-Down Bread Pudding
Yield: one 10-inch pudding (12 or more servings)
Time:
Prepare: 15 minutes
Bake: 50 minutes
Cool: 1 hour
(Rest: overnight)
Ingredients:
20 figs (about 475 g)
30 g toasted slivered almonds
100 g honey
85 g (6 T.) butter
730 g (3 c.) milk
200 g (4 whole) eggs
100 g fine sugar
1/4 t. salt
250 g. dry, very fine bread crumbs (dry the bread completely before grinding)
50 g almond meal
Method:
Preheat the oven to 350F.
Remove the stems from the figs and cut the figs in half lengthwise.
Heat the butter and honey together over medium heat until they are both melted and the mixture is bubbly.
Butter a 10-inch cake pan and pour in the syrup. Press the figs, cut side down, into the syrup, then sprinkle with the toasted almonds.

In a large bowl, whisk together the milk, eggs, sugar, and salt. Add the bread crumbs and almond meal and stir until they are evenly distributed.
Slowly pour the bread crumb mixture over the figs.
Bake for 50 minutes, or until the pudding is puffed and just set.
Allow the pudding to cool in the pan for about one hour, then invert onto a plate.
Serve warm or at room temperature, or warm with cinnamon ice cream. I think this is best the next day, after the syrup has had time to permeate the pudding.