If you've been baking for a while, or even if you're a new baker, chances are you've done some experimenting with ingredients or techniques to see what works best for you. Maybe an experiment goes something like this:
You have a choice of two flours, and you wonder which will produce a better bread. So you take your favorite recipe and bake it twice, once with flour A, and once with flour B. Except for changing the flour (the experimental variable) you keep everything else the same: the other ingredients, the fermentation time, the baking time and temperature. You like Loaf A better, so you conclude that Flour A is better.
Here is an experiment I did a while ago, but I'm not going to say what the experimental variable was, just yet.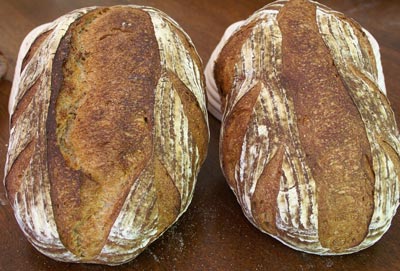 I like the loaf on the left better because the grigne (cut) opened up much more nicely than the one on the right.
So what did I vary to produce this difference?
Well, I lied; this was not an experiment, it was just two loaves I baked one day. I varied nothing, actually. At least nothing I could control.
These loaves were as close to identical as I could make them without them being the same loaf. They were from the same batch of dough, the same weight, shaped and scored exactly the same (as much as I could control that), baked together in the oven.
My point is that when we bake there are lot of things we can't control even if we try to. So when we run a single experiment, success or failure may not be attributable to our "experimental variable" at all, but to some other thing that was beyond our control or awareness.
Maybe I shaped Loaf B less tightly than Loaf A. Maybe the angle on the blade was different when I scored the loaves. Maybe B stuck to the peel a little bit on its way into the oven. Maybe the steam in the oven did not reach B as effectively as A. Who knows? Whatever it was, it happened by random chance or human error.
So here is my suggestion: experiment away, but if you really want to  understand what's going on, don't draw conclusions from a single time. Do it a lot of times with the same variable, like scientists do, so that  random chance and human error even out over time and you're left with a truer picture of how your experimental variable affects (or doesn't) your results.
This doesn't apply only to baking, of course. How often do we make judgments about people, or restaurants, or ideas, or other things, based on a single limited encounter?  I'm just saying.