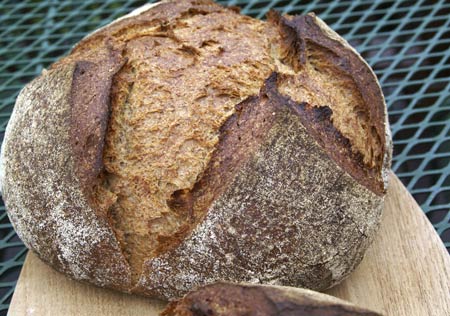 So, how was your day yesterday? Let me tell you about mine. (Be warned, it's a long story.)
It started well enough. Finding myself in my minimalist sometime-kitchen with a few bottles of Guinness Extra Stout and Saint Patrick's Day on the horizon, I thought I would try a bread that made an appearance in last week's YeastSpotting: Mary's (One Perfect Bite) Rye Bread with Guinness Stout and Fennel Seeds.
I mix it up (with a couple of adaptations); so far so good. I must say the aroma of the dough catches my attention, and I know this is going to be one mighty bread. I decide to go with two larger loaves rather than Mary's three, and here's where things start getting interesting. In this kitchen we have no brotforms, no bannetons; in fact, we have no baskets of any kind except a couple of plastic chip baskets that are way too small for these two-pound loaves. But we do have a couche; let's see, here it is. Uh-oh: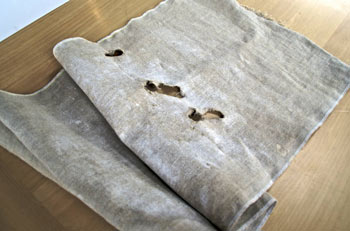 The mice have been here, apparently. And let's just say I cleaned the couche up a bit before the photo. Normally I don't wash it, but I think I will make an exception in this case. Before I use it again.
Moving on to Proofing Plan B: The medium glass mixing bowl, and the colander, both lined with (rodent-free) linen, should do the trick nicely (and colorfully).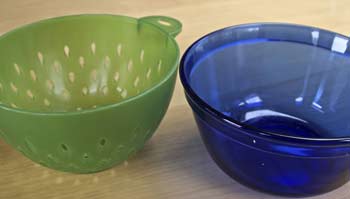 While the boules are proofing, I make (as in mix, roll, and cut) some pasta I will eat for dinner. (Why this is an important piece of the story will become clear.)
Forty-five minutes before I estimate they'll be done proofing, I preheat the oven to 450F. At least I think it's 450; the display on my range is shot, so I have to set it by counting the number of times I press the "+" button, each time increasing the temperature by five degrees. Sometimes I lose count, but I'm pretty sure I set it to 450. Give or take. (I like to think that learning to live with uncertainty and lack of visual feedback has made me a stronger person.)
Now this point would also be a good time to put the one of the loaves in the refrigerator for retarding, since I can only bake one loaf at a time. But I don't remember to do that until I put the first loaf in the oven. So already I'm prepared for this second loaf to be overproofed, since it will continue to proof some once it's in the fridge.
I put the first loaf in the oven, covered with homemade cloche, for 10 minutes. Remove the cloche, and it's looking good! Turn the oven down to 425 (I think) by pressing the "-" button five times, set the timer for 30 minutes.
Time to cook the pasta. I set a pot of water on to boil and go work on the crossword puzzle.
After 20 minutes, the most incredible aroma of fennel and Guinness and rye is filling the house. I go to check the bread. Switch on the oven light… nothing. Drat, the bulb must be burned out. I open the door and peek inside. The loaf is brown, but not done yet.
And hey, what's with this pasta water? It's hot but not boiling yet. There must be something wrong with that burner; let's try another one. Now back to the puzzle.
When the timer goes off ten minutes later, what the hell? The loaf is nowhere near done. And double what the hell? My water is less hot than before. Is this range even operational? Uh, well now that I take the time to tune in and analyze the situation, I see that, no, it is not. Circuit breaker time.
The circuit switch is clearly labeled "Range." After a couple more rounds of range-crashing and circuit-resetting, I realize that label should read "Range and Under-Cabinet Lights." What, the oven, burners, and lights can't all be on at the same time? For five years, I have somehow missed this fact?
OK, so lights OFF, oven ON (what temperature at this point, God only knows), burner ON. I bake the loaf for some amount of time until it seems done, and truthfully it doesn't seem to have suffered much for being jerked around so much. It looks and smells great (see top photo).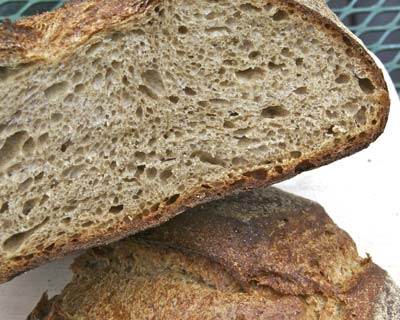 Meanwhile, the pasta is cooking. Time to drain it, but where's the colander? It's in the refrigerator of course, holding that second loaf of rye bread with Guinness Stout and fennel seeds. Damn, I need that colander, and I shall have it.
Now if I had any brains I would transfer the loaf into the (now free) bowl I used for the first loaf, and put it immediately back into the refrigerator. But I think we have established by now that I do not, in fact, have any brains. So I just take that linen-cradled dough out of its colander-cum-banneton and set it on the counter. Which by itself won't be too bad if I remember to put it back in the colander and back in the fridge once I'm done draining the pasta. Well, that's a big IF.
Dinner is good. The pasta is delicious. I am just going to rest my eyes for a few minutes before I clean up…
Apparently I was more sleepy than I thought, and it was good to get some rest. Oh and look, that second loaf got a rest too, right here on the counter where I left it, uh… can it really be almost two hours ago? It's not really a ball of dough any longer, more like a deflated mini-basketball. Should I just toss it? I decide to schlep it back into the colander, back into the fridge, and deal with it in the morning.
So this morning, after deflating it even more with the scoring, I bake it, and damned if this isn't what I get. The second of two loaves that refuse to die: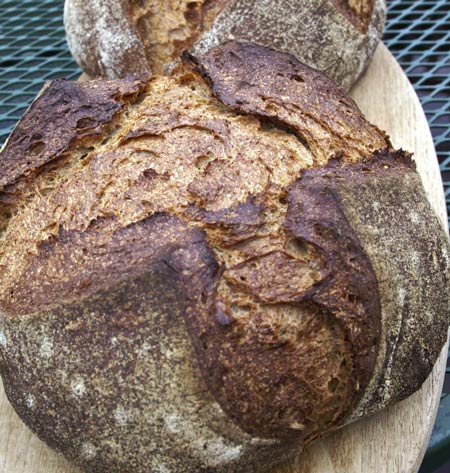 And just to let you know, Mary was kidding when she said the flavors in this bread are strong. They're not strong, they are Herculean.
Finally we come to my adaptation of the recipe. I know the directions get a little fuzzy at the end there. Just do whatever, I'm sure the bread will land on its feet. Now please excuse me, I have to go call the electrician.
Guinness-Rye-Fennel Bread
Yield: 1850 g (2 loaves)
Sponge Ingredients:
390 g flour
280 g coarsely-ground whole rye flour
4.7 g (1.5 t.) instant yeast
85 g water
682 g (2 bottles) Guinness Extra Stout
Final Dough Ingredients:
390 g flour
21 g (3.5 t.) salt
1 T. fennel seeds
All of the sponge
Method:
In a large bowl, combine the sponge ingredients. Cover and let rest at room temperature for about 4 hours, until the sponge is expanded and bubbles appear on the surface.
Add the final dough flour, yeast, salt, and fennel seeds to the sponge and mix roughly in the bowl, then turn the dough out onto an unfloured counter.
Mix (knead) with your hands until the dough reaches a low level of gluten development, about 10 minutes. The dough is soft and sticky, but resist the urge to add more flour.
Transfer the dough to a lightly oiled container. Cover and ferment for one hour.
Turn the dough into a lightly floured counter. Divide into two pieces. Preshape them into balls and let rest, covered, for 15 minutes.
Shape the dough into tight balls and place them, seam-side up, into something to hold them.
Proof for some amount of time, at some temperature or combination of temperatures.
Ditto on the baking.