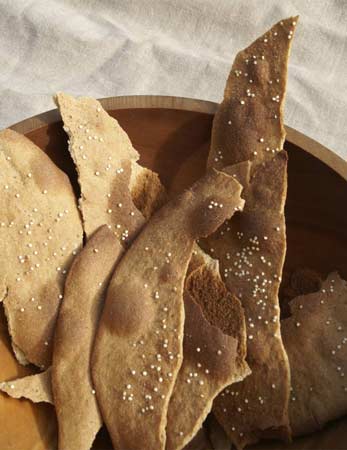 If you're going to be an idiot, it helps if you're at least an early-rising idiot.
That way, when you get up at 6 AM and see that the world is being taken over by Daring Bakers bearing lavash crackers with all manner of vegan, gluten-free dips, spreads, and salsas, and you slap your forehead and realize that yes, it's that day and you're caught not only lavash-less but lavash-plan-less, well, you still might have time to pull something together before you get caught up in the rest of your day.
It helps to have a few other things on your side.
Like that your lovely hosts Natalie (Gluten A Go Go) and Shel (Musings From the Fishbowl) have crafted a challenge that is fun and delicious (and yeasted in the bargain!) without being too time-intensive.
And that you're spending the weekend in a minimalist kitchen, away from your fairly well-stocked pantry. No need to waste precious time deciding whether you'll top your lavash with sesame seeds, chipotle, nigella seeds, amaranth, poppy seeds, zaatar… The cupboard contains salt, pepper, quinoa. For the accompaniment, you have a few vegetables at your disposal: garlic, eggplant, grape tomatoes, jalapeno pepper, baby zucchini. Decision easy: roasted vegetable dip it is.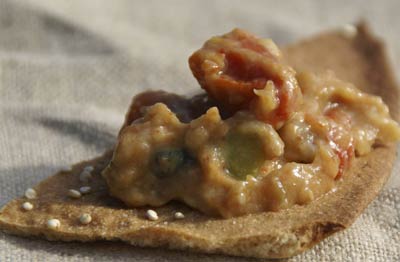 One more thing: when you're caught without a rolling pin, it helps that you're never, ever without a bottle of wine in the house.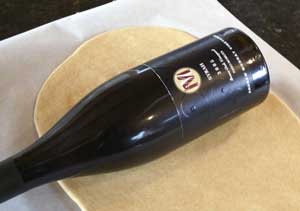 The lavash recipe can be found at our hosts' blogs. Here's the dip recipe (if you can call it that):
Ingredients:
Some roasted vegetables. (I used 1 1/2 heads of garlic, two small Japanese eggplants, a couple of handfuls of grape tomatoes, four baby zucchini, and one jalapeno pepper.)
Some seasonings. (I used salt, lemon juice, and ground coriander.)
Method:
Puree the pulpy vegetables (in my case, the garlic, skinned eggplant, and skinned pepper) in a food processor.
Coarsely chop the other vegetables (zucchini) or leave them whole (grape tomatoes).
Season to taste.