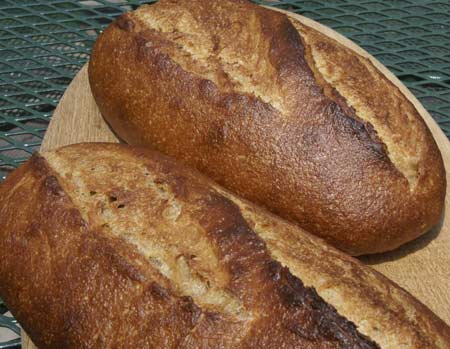 This is what over-steamed bread looks like. Like someone took a varnish brush to the crust. In fact the photo doesn't do justice to the shine on these loaves. You can see your reflection in them.
Here in our tiny sometime-(not-often-enough)-house (where my husband and I, having shipped our daughter off for adventures in places unknown, can claim a few days of quiet sunshine, blissfully uninterrupted by the teenager's constant lamenting that her life is waiting for her back home, so when can we leave already?), there is a perfectly good oven.
But this, my sometime-oven, is different from my most-of-the-time oven, and I clearly haven't mastered it yet. Last time I baked bread in it, when I poured water into the heated steam pan, the steam came pouring, and I do mean pouring, out of the vents. Leading me to wonder if there would be any steam at all left for the bread in there. So this time I sprayed the hell out of the loaves with water first, as extra insurance. Too much insurance, as it turns out, which is why the bread looks like some giant plastic Happy Meal toy.
Not that I'm complaining. Not about the bread, which tasted fine. And not about the oven either, because it's part and parcel of the house, and who can complain about a house when you get to have neighbors like these?