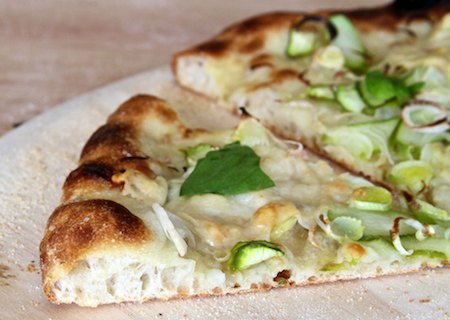 This pizza has a few ingredients, but none more important than 1) my good fortune to live a 5-minute walk away from one of California's best farmers markets, and 2) a blessedly dry morning at the end of a waterlogged week, in which to stroll through the market and pick up a few green things between foldings of the dough.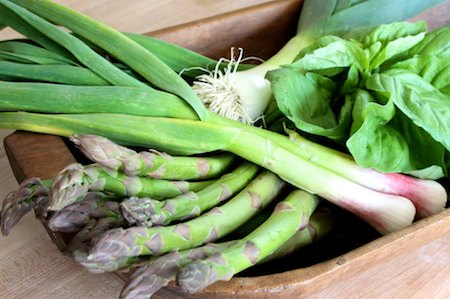 I had enough sourdough toss-off to use in the dough, but a poolish would work here, too. My cheap but very sharp (you may ask my thumb if you don't believe me) mandoline sliced my market picks — asparagus, green garlic, leeks, and goat gouda — thinly and perfectly.
Since I acquired a new house a few months ago, I've been experimenting with the best oven configuration for pizza, and I think I have it down: The stone goes on the second-to-highest oven rack. Preheat an hour at maximum bake temperature (550F). Bake the pizza about 7 minutes, then switch on the broiler and go for another minute and a half, until it's pleasantly charred.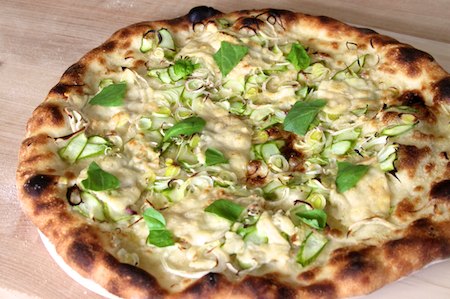 Asparagus, Green Garlic, and Leek Pizza
Yield: one 14-inch pizza
Time:
Mix dough: 10 minutes
Ferment dough: 2 hours, with folds at 40 and 80 minutes
Preshape and rest: 20 minutes
Shape crust and assemble: 5 minutes
Bake: 9 minutes
Dough Ingredients:
181 g flour
109 g water
1.1 g (1/3 teaspoon) instant yeast
4.8 g (generous 3/4 teaspoon) salt
122 g active 100%-hydration sourdough starter (alternative: a poolish of 61 g flour, 61 g water, and a very small pinch of yeast, fermented for 12 hours)
9 g olive oil
Topping Ingredients:
2 fat stalks asparagus, thinly sliced
2 small bulbs green garlic, thinly sliced
1 leek (white part), thinly sliced
a few thin slices of cheese (I used goat gouda)
Kosher salt
olive oil
a few fresh basil leaves
Method:
To make the dough, mix all of the dough ingredients by hand on the counter until you have a low-medium level of gluten development.
Transfer the dough to a lightly oiled container. Cover and ferment for 2 hours at room temperature, with folds after the first 40 and 80 minutes.
After the dough has been fermenting for an hour, preheat the oven, with baking stone, to its maximum baking temperature. The second-to-top rack works best in my oven.
Turn the dough onto a counter floured with a 50-5o blend of regular flour and semolina, if you have it. Preshape the dough into a ball and let it rest, covered, for 20 minutes.
Flour the counter very well with the flour-semolina blend. Stretch the dough into a 14-inch circle. Draping it over your fists and allowing gravity to stretch it will make the crust thin in the center and thicker at the edges.
Place the crust on a peel that has been very liberally dusted with semolina. Brush it with olive oil and top with asparagus, garlic, leeks, a generous pinch of Kosher salt, and cheese. Drizzle with a little more olive oil.
Slide the pizza onto the stone. Bake for 7 minutes, until the cheese is melted (or nearly so) and the crust is golden brown.
Turn on the broiler and broil for a minute or two, until the crust is nicely charred.
When the pizza is out of the oven, top with fresh basil.