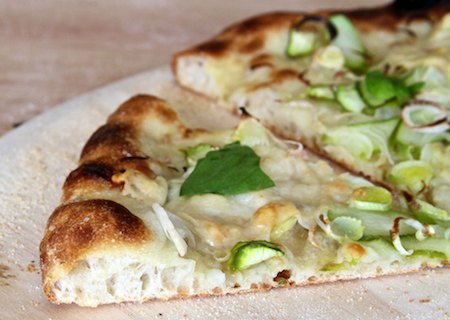 This pizza has a few ingredients, but none more important than 1) my good fortune to live a 5-minute walk away from one of California's best farmers markets, and 2) a blessedly dry morning at the end of a waterlogged week, in which to stroll through the market and pick up a few green things between foldings of the dough.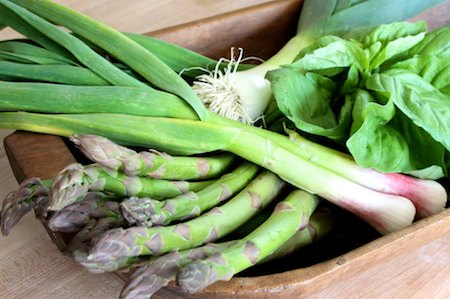 I had enough sourdough toss-off to use in the dough, but a poolish would work here, too. My cheap but very sharp (you may ask my thumb if you don't believe me) mandoline sliced my market picks — asparagus, green garlic, leeks, and goat gouda — thinly and perfectly.
Since I acquired a new house a few months ago, I've been experimenting with the best oven configuration for pizza, and I think I have it down: The stone goes on the second-to-highest oven rack. Preheat an hour at maximum bake temperature (550F). Bake the pizza about 7 minutes, then switch on the broiler and go for another minute and a half, until it's pleasantly charred.