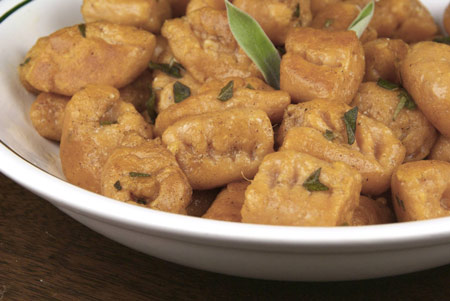 There's a reason I don't give dinner parties: I'm not a good cook. So I really can't explain what possessed me to have a dinner party in honor of my husband's birthday last year, especially since the guest list included a number of card-carrying gastronomes. Luckily, they are nice people too, and much too polite to do anything but dutifully eat the less-than-perfectly-done osso bucco that was put in front of them.
We did have some pretty good bread (because I do like to bake) and a perfectly serviceable salad (hard to screw that up) and a delicious pear cake for dessert (because I do like to bake), but I think the thing that really saved the meal was some little orange pillows of goodness and light. And believe me, no one was more surprised than I was that these sweet potato gnocchi turned out so well that people actually asked me for the recipe. I can't remember the last time that's happened with any non-baked thing I've made. Now that I think about it, maybe it's never happened.
What I'm trying to say is, if I can pull these off, so can you. And by you, I mean anyone. And not only can you make them, but you should, because they're very good. Also fun to make, if you like working with dough. (Of course you do, why else would you be reading here?) In fact I've made them several times now, and it has never seemed like a chore. Only once have they been less than wonderful, and that was when my sweet potato mash was too dry and I also accidentally used about three times as much salt as I should have. They can be made several hours ahead and then reheated with the brown butter at serving time.
I adapted this recipe from Epicurious, the major change being I used significantly less flour than that recipe calls for. The dough is light and airy and seems fragile, but it's quite manageable if you use a light hand and plenty of flour on the counter. I haven't really gotten the hang of rolling them off a fork to produce those characteristic gnocchi ridges, but it doesn't matter. Even unridged, they are terrific. And yes, they really are as orange as they look in the photo.
Sweet Potato Gnocchi With Sage Brown Butter
(adapted from Epicurious)
Yield: 60 gnocch
Ingredients:
360 g (1.5 c.) mashed cooked sweet potato flesh
190 g (3/4 c.) well-drained ricotta cheese
17 g (1/2 c.) finely-grated parmesan cheese
15 g (1 T. packed) brown sugar
6 g (1 t.) salt
approximately 75 g all-purpose flour
2 – 4 T. unsalted butter
3 T. chopped sage, plus whole sage leaves for garnish
salt and pepper to taste
Method:
Mash together the sweet potato, cheeses, brown sugar, and 1 t. salt.
Add flour until the dough holds together but is still very soft and light.
Line two baking sheets with parchment paper.
Turn the dough onto a floured counter and divide it into 3 pieces.
Using a light hand, roll each piece into a rope 20 inches long and about an inch in diameter.
Use a dough cutter to cut each rope into 1-inch pieces.

Roll the gnocchi on the tines of a fork to give them ridges, and place them on one of the prepared baking sheets.

Bring a large pot of water to a rolling boil.
Working in batches of 15, boil the gnocchi until they float and then a minute longer (about 2 minutes total). Remove them gently with a spider or slotted spoon to the other prepared baking sheet.
Let the gnocchi stand at room temperature at least until firm, and up to 4 hours.
In a large skillet, melt the butter over medium-high heat. Cook until the butter solids are brown and aromatic, about 5 minutes.
Add the chopped sage and salt and pepper to taste.
Add the gnocchi and sauté, tossing gently, until the gnocchi are heated through and are beginning to brown, about 5 minutes.
Serve garnished with whole sage leaves.