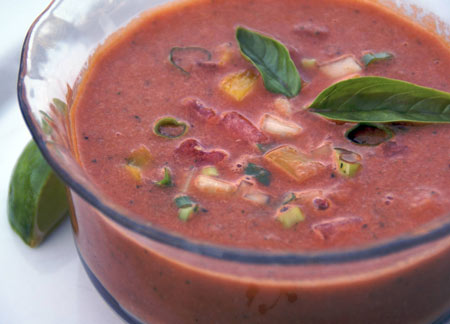 Combine two-day-old bread with a craving for a cold, light summer soup, and what do you get? Gazpacho, of course! (Did you know that stale bread is a defining ingredient of original Andalucian gazpacho? I didn't, until a year or two ago, although I've been making "gazpacho" for years.)
I have no tomatoes, but I do still have half of the best watermelon ever. Watermelon gazpacho it is, then. We ate this light, bright, refreshing soup with grilled flank steak for the perfect summer supper.
The bread I used was a fairly sour sourdough. If your bread is less sour, you may want to increase the amount of vinegar. Of course, all of the ingredients are to taste anyway.
Watermelon Gazpacho
Yield: 4 – 6 servings
Ingredients:
8 c. coarsely-diced watermelon, plus 1 c. finely-diced watermelon
1 cucumber, seeded: 1/3 c. finely diced, the rest coarsely chopped
1 small yellow bell pepper, seeded: 1/3 c. finely diced, the rest coarsely chopped
3 scallions (white and green parts), thinly sliced
18 basil leaves
1/4 c. olive oil
2 T. balsamic vinegar, or to taste
1 t. salt, or to taste
freshly ground black pepper, to taste
juice of 1/2 a lime, or to taste
2 c. fine sourdough bread crumbs
Method:
Reserve the finely diced watermelon, finely diced cucumber, finely diced pepper, 1/4 cup of the sliced scallion (green part), and 6 basil leaves for garnish.
Puree the remaining ingredients in a blender or food processor until smooth. Chill well.
Ladle into bowls and top with the reserved garnishes.
This is going to YeastSpotting this week. If you'd like to participate, get the details here.