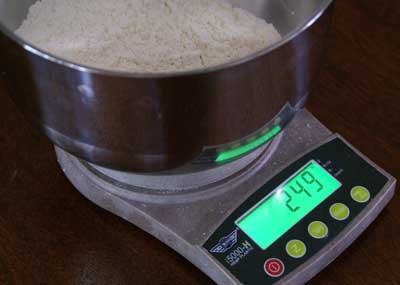 There is no right or wrong way to bake. Or rather, the "right" way is whatever way has you aching with pleasure when you pull a lovely loaf or perfect pie from the oven and taste that first bite of heaven.
So when I say – rather loudly, sorry – "WEIGH YOUR INGREDIENTS, PEOPLE!" please understand that's just a suggestion. Okay, a very strong suggestion. Some would even say I'm fanatical about it.
If you don't believe that my way is the only one that merits consideration, think about this experiment I did with a few friends not long ago, using my favorite problem child, flour:
Everyone measured out one cup of white flour from the same bag, using their usual measuring technique. When we weighed each cupful on my kitchen scale we found they ranged from 127 to 148 grams. That's a difference of up to 15%.
Don't think 15% makes much difference? In the world of bread, it's huge. Using 15% more flour can transform what's supposed to be ciabatta into something more like French bread, or sandwich bread into something as stiff as a bagel. And vice versa.
Part of the problem is that everyone has a different method of measuring by volume. I was taught to fluff the flour, then spoon it lightly into the cup and level with the back of a knife. Cook's Illustrated instructs us to dip the cup into the flour, then sweep with a straight edge. Martha Stewart can't make up her mind: her Baking Handbook advocates dip-and-sweep, but her website admonishes us to spoon, not dip. And even if everyone could agree on a single technique, the lightness of the baker's touch, as well as how densely the flour is settled into its original container, can make a significant difference.
Adding to the confusion is that the volume of a "cup" is not standardized. In the US, it's about 237 milliliters. In Australia, it's 250; in the UK's Imperial system, 285. (Most of the non-English-speaking world already has it right; they use metric weights.) Now that sharing recipes across oceans is as easy as cracking open a cookbook, this lack of standardization can leave us scratching our heads.
A scale, equal-opportunity instrument that it is, obviates all of that. Put the bowl on the scale, zero it, and add flour until you reach the right weight. Pour, spoon, or throw it into the bowl by large or small fistfuls; it's all the same to the scale. And a gram is a gram, from Minneapolis to Madrid to the moon.
Other dry ingredients, especially those like brown sugar and grated cheese that can be packed with varying density, are also great candidates for weighing. By zeroing (or taring) after each addition, ingredients can be scaled directly into the mixing bowl one after the other. Saves washing a few dishes, too.
I also scale liquid ingredients, although the chance of overpouring makes it risky to add them directly to other ingredients. And small ingredients, such as yeast and salt, are still best measured by volume, unless your scale can handle fractions of a gram.
Some North American cookbooks and other recipe sources still list ingredients only by volume, but many baking books in my library give weights too, in metric (grams/kilograms) and/or avoirdupois (ounces/pounds) units.
I recommend a digital scale that can handle at least 5 kg and can switch between metric and avoirdupois, with a precision of 1 gram and 0.05 ounce. I prefer one that is lightweight and slim to allow it to slip easily into a kitchen drawer. Here are a few in the $25 – $50 range that fill that bill: