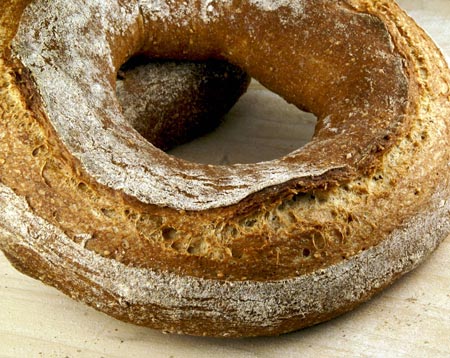 If I had to choose one word to describe this bread, it would be "wheaty." Now that may seem odd, because isn't most bread made with wheat flour, so isn't all bread wheaty? Well sure, but but the four different wheat flours — "regular" white flour, whole wheat flour, white whole wheat flour, and semolina (coarsely ground from durum wheat) — and two preferments (sponge and poolish) give the bread an extra wheaty flavor. (OK, so it's late at night and I'm not feeling very imaginative. It's still good.)
I used white (hulled) sesame seeds, which lend a delicate sesame flavor and are not visually prominent in the bread, just because I had some on hand that needed to be used up. Regular sesame seeds, and toasted if you like, would also be lovely. You could also leave them out altogether. We're nothing if not flexible.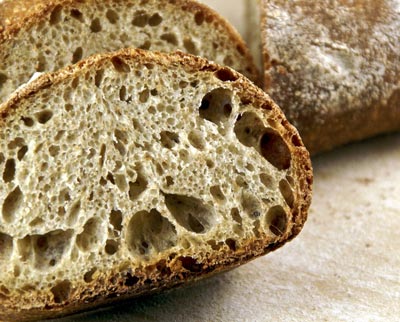 These crowns can be shaped in authentic or makeshift couronne baskets, or simply on a floured board, which is what I did here. If you make two crowns but do not have two peels to load them into the oven, make sure you proof them on separate boards because you need to flip the crown off the board and onto the peel. I placed mine on a single large board and tried — nearly successfully — to flip them onto my two peels simultaneously.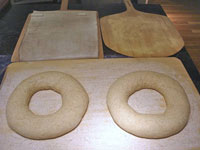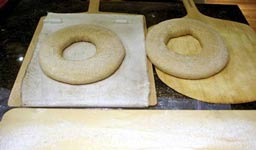 Whole Wheat – Semolina Crowns
(adapted from SFBI formula for Semolina-Durum Crowns)

Yield: 1350 g (two crowns)
Time:
Ferment sponge and poolish: overnight
Mix: 10 minutes
First fermentation: 1.5 hours
Divide/rest/shape: 35 minutes
Proof: 1.25 hours
Bake: 45 minutes
Desired dough temperature: 76F
Sponge Ingredients:
113 g whole wheat flour
73 g water
0.1 g (a small pinch) instant yeast
Poolish Ingredients:
151 g white whole wheat flour
151 g semolina flour (coarse-ground)
301 g water
0.3 g (scant 1/8 t.) instant yeast
Final Dough Ingredients:
305 g flour
34 g whole wheat flour
164 g water
2.6g (7/8  t.) instant yeast
15 g (2.5 t.) salt
all of the sponge
all of the poolish
45 g sesame seeds
Method:
To mix the sponge and poolish, mix each of their ingredients, respectively, until just combined. Cover and ferment overnight (8 – 12 hours) at room temperature.
In the bowl of a stand mixer with dough hook, combine all of the final dough ingredients except the sesame seeds. Mix on low speed until just combined, about 4 – 5 minutes. Adjust the water as needed to achieve a medium dough consistency.
Mix on medium speed to a medium level of gluten development. This might take about 4 or 5 minutes, but will depend on your mixer.
Add the sesame seeds and mix on low speed just until they are evenly incorporated into the dough.
Transfer the dough to a lightly oiled container. Cover and ferment at room temperature for 1.5 hours.
Turn the dough into a lightly floured counter and divide it into two pieces. Preshape each into a light ball and let rest, covered, for 15 minutes.
Shape the dough into a tight ball, cover, and let rest for another 15 minutes.
To form the crown shape, pierce the ball in the center with your elbow, then pick the dough up and gently turn and stretch it evenly until the strand is about 2.5 inches in diameter.

Place the shaped crowns upside-down on a board that has been liberally dusted with whole wheat flour.
Proof at room temperature, covered, for about 1 hour and 15 minutes.
Meanwhile, preheat the oven, with baking stone, to 475F. You will also need steam during the initial phase of baking, so prepare for this now.
Just before baking, flip the crowns right-side-up onto the peel and slash once in a circle around the crown, or make four straight cuts:

Once the bread is in the oven, reduce the temperature to 450F. Bake for 10 minutes with steam, and another 25 minutes or so without steam. The crust should be a dark golden brown. Then turn off the oven and leave the loaf in for another 10 minutes, with the door ajar.
Cool on a wire rack.