I used to have a love-hate relationship with parchment paper. I love that it keeps all kinds of things (bagels, hamburger rolls, grissini, cinnamon rolls…) from adhering to their pans. In fact, parchment is indispensable if you bake in or on metal pans. But I hate that the rolls of paper parchment are difficult to tear off cleanly, need to be cut with scissors every time to fit the pan, and can't be reused more than two or three times, if at all.
Since I discovered reusable parchment sheets from Regency Wraps, there's a whole lot more love going on in my kitchen.
The sheets can be reused hundreds of times, according to the manufacturer. I've had mine for a few months and they show no signs of wearing out.
They're easy to clean with a damp cloth, and a little soap if they're sticky or greasy.
They are easy to cut to the exact dimensions of your pans. The uncut size is 13 x 17 inches, large enough for a sheet pan, two 8-inch cake pans, or two 9 x 13-inch pans (which are usually a little smaller than that at the bottom). It's worth having one for each pan you use regularly.
Once they're cut to size, they can be stored right in their pans.
They can be used in oven temperatures up to 500F. Paper burns at 450.
They are more "nonstick" than paper parchment. I used to need copious amounts of semolina to keep bagels from sticking to the paper. With these sheets I don't need any.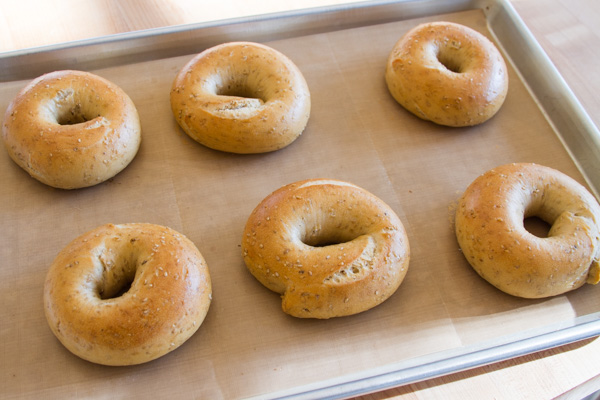 And here's even more for you to love: Forget flowers and chocolate — I would love to send some love to your kitchen in time for Valentine's Day,  in the form of two reusable parchment sheets, courtesy of Regency Wraps.
Update on February 11, 2012: This giveaway has ended. Congrats to Jeremy!
To enter the running for this giveaway, leave a comment on this post. Of course, there is fine print:
Winner will be drawn randomly by me at approximately 9 A.M. PST on Saturday, February 11, 2012.
One comment per person, please.
I regret that I can only ship to a United States address.
Full disclosure: Regency Wraps provided two reusable parchment sheets for me to give away. I was not otherwise compensated in any way.