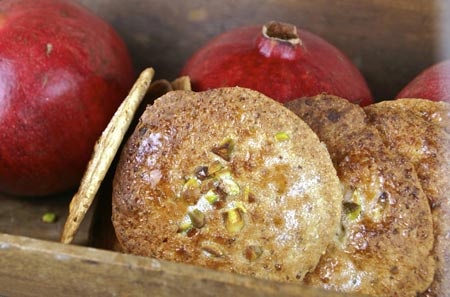 I've been making the same Christmas cookies for more than 20 years, and I figured it was time to add a little something new.
These are a different kind of cookie, actually sort of a cross between a cookie and a cracker. I like them because:
their only sugar is what's sprinkled on top, adding color and shine
they're leavened (a little) by yeast, and wild yeast at that
they have no butter, only olive oil
(To any members of my household who may be reading this: Don't worry, we'll still have Candy Cane Cookies, Peanut Butter Bonbons, and a few of the other old favorites.)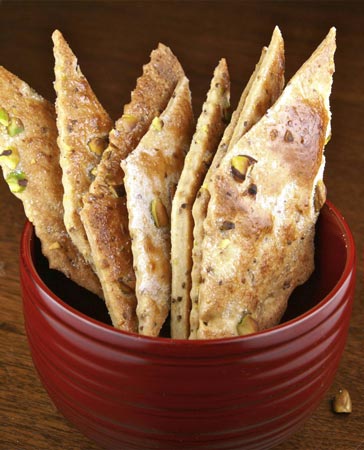 Pistachio-Anise Wafers
Yield: 530 g (16 – 24 wafers)
Time:
Ferment sponge: 12 hours
Mix final dough: 5 minutes
Divide and shape: 5 – 10 minutes
Proof: 25 minutes
Bake: 18 minutes per batch
Sponge Ingredients:
136 g flour
86 g water
30 g mature 100%-hydration sourdough starter
Final Dough Ingredients:
all of the sponge
3 g (1 t.) salt
8.5 g (4 t.) whole anise seeds, toasted
120 g olive oil
1/2 t. lemon zest
25 g shelled roasted pistachios (about 50 nuts), very finely chopped (grind in a minichopper if you have one)
65 g flour
70 g white whole wheat flour
Topping Ingredients:
20 g shelled roasted pistachios (about 40 nuts), coarsely chopped
granulated sugar
Method:
In a bowl, mix the sponge ingredients until just combined. Cover and ferment for about 12 hours.
In the bowl of a food processor, combine the sponge, finely chopped pistachios, anise seed, salt, lemon zest, and olive oil. Pulse several times to distribute the oil through the sponge (it will not really be incorporated into the dough at this point.)
Add the flours and pulse just until the flour and oil are incorporated. Don't overmix! Remove the dough to an unfloured counter and gather it into a ball. Don't worry if you see a few small streaks of white dough where the oil did not reach.
Preheat the oven to 375F with the rack in the center. Line two baking sheets with parchment paper.
There are a couple of ways to shape the wafers:
A) You can divide the dough into balls and roll them into circles (about 30 g of dough makes a 4 or 5-inch circle). Better yet, use a tortilla press or Indian flatbread press if you have one:

B) Alternatively, you can divide the dough into two pieces and (on an unfloured counter) roll each into a rectangle about 10 – 11 by 12 – 14 inches. Transfer the rolled-out dough to the parchment-lined baking sheet before using a pizza or pastry wheel to cut it into diamonds.

Press the coarsely-chopped pistachios firmly into the wafers. Let them rest, uncovered, for about 25 minutes.

Bake each sheet at 375F for about 18 minutes, until golden brown.
After both sheets have finished baking, move the oven rack up so it is about 6 inches below the broiler element, and heat the broiler.
Sprinkle the wafers with granulated sugar and broil for about 30 – 40 seconds, just until the sugar is melted and browned. Watch closely; the sugar will burn in the blink of an eye.
Cool on a wire rack.