Helen (Food Stories) tagged me for "7 Random Facts" a few weeks ago. Then Laura (The Spiced Life) did the same for "5 Facts." Thanks, both of you, for thinking of me. I hope it's not considered cheating to combine the two. And despite my educational training (see #3, below), I'm letting 7 plus 5 equal 7 today.
I have the world's best dog. Yes, this is a fact.

I wear sandals year-round. True, I would probably not do this if I still lived in Vermont. Even so, northern California winters are rainy and cool, and people ask me if my feet aren't cold. No, they're not. My hands do get cold pretty easily, though.
My undergraduate degree is in mathematics.

I have an online subscription to the New York Times crossword puzzle, and I do the Monday through Saturday puzzles on my laptop. The Sunday puzzle, however, demands a real newspaper, a black (not blue) ball-point (not felt-tip) pen, and a cup of coffee. Fresh-baked bagel highly desirable, but not required. (NB: the pen doesn't mean I don't make mistakes, I'm just practiced at overwriting them.)
I have enjoyed peanut butter and dill pickle sandwiches since I was a child.
When I was in high school, sportswriter was on the short list of career possibilities, until I realized that I probably couldn't just watch games and write about them, I might have to actually talk to the players.
I have a small collection of raku pottery. My favorites are several my husband made years ago.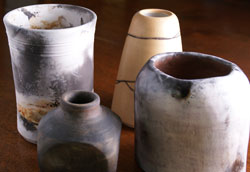 I'm supposed to tag some more people at this point, but instead I'll just invite anyone who hasn't done this one and wants to, to consider yourself tagged. And if you feel 5 or 7 facts would just be too self-revelatory, feel free to leave just one or two in the comments here.