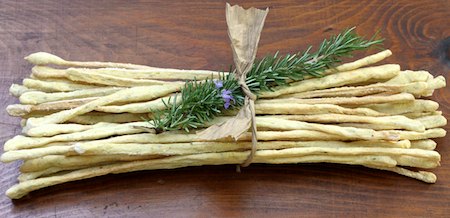 My daughter M (the one who hid a dog in her room for several days before springing the news? yes, that one) has moved on to her own apartment but is often over here, killing time between work and class, radiating sweet smiles and depositing piles of unfolded laundry wherever she goes. She is content to graze on whatever she finds, and rarely comments on it — a change, on the whole, for the better. I no longer hear "Why can't you buy macaroni and cheese in a box like a normal person?" or "Why do you have to put fruit in everything?" whenever she goes near the kitchen.
Occasionally, M does weigh in.  "These are good."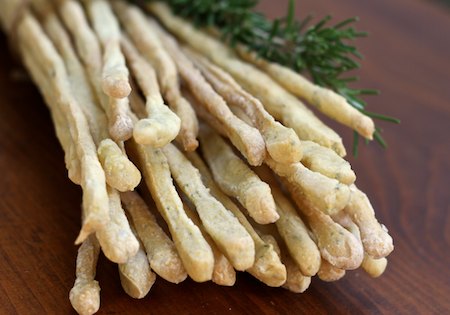 Be warned, this dough is on the wet side, which helps the cornmeal not weigh it down too much. It does get a bit less sticky as it ferments and the cornmeal absorbs more water, but it's still going to stick to your fingers. Here's a tip for getting tenacious dough off your hands: grab a handful of flour and rub it between your hands; most of the dough will just rub right off.
When it's time to shape the dough into a rectangle so you can cut it into strips, remember to flour the counter well, and use a little more flour on top. You can then do a rough shaping, brush the surface with oil, and use your fingers to pat the dough out further if you need to.
There are a couple of ways to make the strips nice and long. You can simply grasp each strip lightly at each end and stretch it to the length of your baking sheet, which is fast. Or you can stretch a strip slightly, fold it in half crosswise (i.e., its length is now halved), and roll it out on an unfloured section of the counter. The first method is faster, but the second produces grissini that are less rustic and more uniform in thickness. Since I don't mind rustic and I didn't have a lot of time to spend on these particular bread sticks, I opted for stretching. With either method, if you have trouble getting it to length, take it as far as you can, then let it relax for a minute before continuing to roll or stretch.
Rosemary – Cornmeal Grissini
Yield: 32 grissini
Time:
Mix: 5 minutes
First fermentation: about 1 hour
Shape: 10 minutes per sheet of 16
Bake: 30 minutes per sheet of 16
Dough Ingredients:
1.5 T. whole rosemary leaves
63 g cornmeal (do not use coarse cornmeal)
250 g flour
4.5 g (3/4 t.) salt
3.2 g (generous 1 t.) instant yeast
195 g cold water
14 g olive oil
Topping Ingredients:
Method:
In the bowl of a food processor with the metal blade, combine the rosemary, cornmeal, flour, salt, and yeast. Pulse to combine.
In a liquid measuring cup, combine the water and the olive oil. With the processor running, add the liquids to the dry ingredients in a thin stream.
Continue processing until the dough more or less holds together (it will not form a ball because it is too sticky), and for about 30 seconds beyond that. The total processing time should be about 90 seconds.
Transfer the dough to a lightly oiled, covered container. Don't worry that the dough is sticky; it will become less so as the cornmeal absorbs water over the fermentation period.
Ferment at room temperature until the dough doubles in volume, about 1 – 1.5 hours.
Meanwhile, preheat the oven to 350F and line two baking sheets with parchment paper.
Divide the dough into two pieces. While working with the first piece, cover and refrigerate the other.
On a floured counter, pat/stretch/roll the dough into a rectangle of roughly 8 x 4 inches. The exact dimensions are not critical, but it should be uniformly thick.
Brush the dough with olive oil and sprinkle with coarse salt.
With a pizza cutter or chef's knife, cut the dough into 16 strips of approximately 1/2-inch. Stretch or roll each strip to the length of your baking sheet (see notes above).
Bake for about 30 minutes, until lightly browned.
Cool on a wire rack.