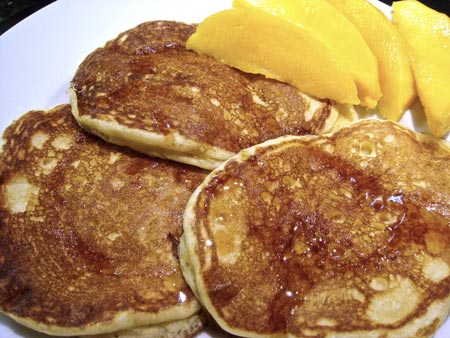 Today is Pancake Day, so this might be a good time to post my favorite sourdough pancakes, the only pancakes I ever make any more. My photo does not do them justice; anyone who can enlighten me about how to get pancakes and syrup to sit still for the camera, please speak up.
Also, anyone who can offer a plausible explanation for why every pancake recipe under the sun makes exactly 14 pancakes will win a prominent place on my list of culinary geniuses.
For the lightest pancakes, fresh mature starter is the best, but I have used refrigerated, several-days-old starter for up to 50% of the total. Pure Vermont maple syrup makes everything good.
Sourdough Pancakes
(Adapted from Breads from the La Brea Bakery by Nancy Silverton.)
Yield: 14 pancakes
Ingredients:
511 g mature 100%-hydration sourdough starter
2 T. maple syrup or maple sugar
2 T. vegetable oil
2 eggs
1/2 t. salt
1/2 t. baking soda
1 t. baking powder
Very Complex Method:
Whisk all ingredients together.
Cook on a hot buttered griddle, about 1/4 cup batter per pancake. Flip when bubbles appear.