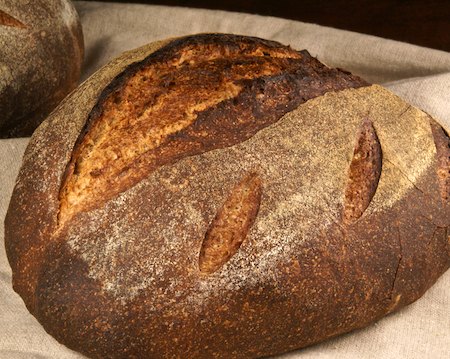 If you like assertively sour bread and a dark, flavorful crust, you will like this bread. If you don't like one or both of those things, please skip it.
Although I started out thinking this bread would be an adaptation of the Normandy Rye from Nancy Silverton's Breads from the La Brea Bakery, it turned out this bread didn't want to be that. Instead it wanted to be more sour and more rye. Although at about 41% rye flour I suppose it qualifies as only a light rye, the flavor is not light at all.
The crust on this wants to get really really dark, and you should let it. The crust in the photo below looks like it is burned, but it isn't. The sugars (which are in extra abundance here from the cider) have caramelized to give the crust a deep, sweet flavor that contrasts very nicely with the sour crumb.